Considerations When Buying a Fixer Upper
February 20, 2014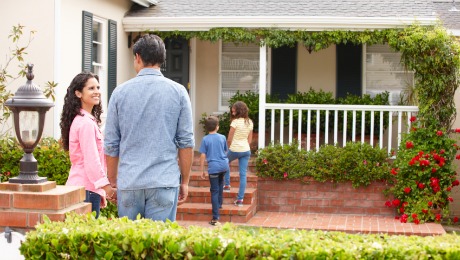 Buying a fixer-upper home is a popular option for many home buyers, and for good reason. You may be able to get a lot more house for your money, build equity through hard work, and have the chance to partially customize the home to your individual needs and tastes. Before taking the plunge, however, you should take into account the many considerations that go into buying a home in need of repair.
Be honest with yourself—brutally so. Asses your abilities, skills and the amount of time and money you're willing to invest in the project. While a fixer-upper can be a great purchase and a wonderful experience, if you get in over your head you'll have a miserable time. Take stock before you jump in and know that licensed contractors may be required for much of the work (i.e. electrical, plumbing, hvac, etc).
Get thorough and detailed estimates. A home inspection is typically recommended for any home purchase and most insurance and mortgage companies require it. The inspector can isolate any problems and make you aware of them before you buy. In addition, you may want to consult a contractor to get estimates for any repairs or modifications before making a final decision to purchase.
Decide if you would rather use a contractor or do the repairs yourself. There are advantages to each. Contractors do expert work and can finish a job more quickly than most amateurs. However, doing the work yourself can be much cheaper if you have the skills and tools.
Address financial concerns. Thorough estimates are big part of this, there's much more. Do you want to pay out of pocket, or finance the repairs? If the former, can you afford to do it all at once or will you tackle it in stages? If the latter, carefully consider how an additional payment will factor into your budget.You can give us a call if you'd like to explore 203K financing. 203K loans are intended to facilitate uncomplicated rehabilitation and/or improvements to homes for which plans, consultants, engineers and/or architects are not required.
Double check the important things. Most fixer upper homes are older. Lead paint, asbestos, and radon may be major, costly concerns. Make sure to get an inspections and address any problems in the contract and sellers' property disclosure statements.
If you are considering buying a fixer-upper, it may make sense to use a well seasoned real estate professional as they may have a good idea of what to look out for and good questions to ask.
Turning a run-down home into your dream house can be an incredible rewarding experience both personally and financially. While pitfalls and potential disasters abound, a little careful consideration and planning can help you mitigate risks. In doing so, you may just find yourself with the house of your dreams.
You might also like:
Boosting Curb Appeal on a Budget
Tips for Buying a Flipped House
Subscribe To Our Newsletter
Sign up with your email address to receive news and updates.