A Step-by-Step Guide to Refinancing
February 25, 2014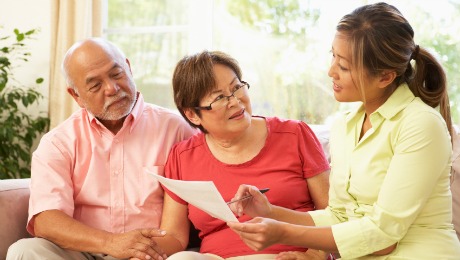 With interest rates remaining low, homeowners continue to weigh the costs and benefits of refinancing their properties. If you're considering a mortgage refinance, but aren't quite sure how to begin, take a look at the following step-by-step plan and asses each point carefully.
Step 1 – Ask, "Does it make sense to refinance?"
There are always certain costs involved when refinancing a mortgage. The point at which the savings outweigh the initial costs is known as the breakeven point. When that breakeven point occurs will give you an idea of whether or not refinancing is worth it. If it's going to take 5 years for you to break even, and you know that your family will likely outgrow the home before that point, then it probably wouldn't make sense to refinance. However, if you don't anticipate having to move any time in the foreseeable future, then a refinance may make a lot of sense.
Step 2 – Make sure your credit score and finances are in order.
Just like when you applied for your first mortgage, your lender will want to look at your credit score and other financial information when you apply for refinancing Keeping up with your credit is definitely worth your while, and it doesn't cost a cent. The three main credit reporting bureaus offer consumers a free credit report once per year. If you haven't already done so, take advantage of this free service to make sure there aren't any errors or red flags. If there are, do whatever you need to do to get these things corrected before you apply for a refinance loan.
The 3 Major Credit Bureaus:
In addition to checking in on your credit, you should make sure you have enough cash in savings to take care of things like closing costs, fees, points, etc. Lenders like to see that you've been able to establish adequate savings, just as they would if you were applying for a traditional mortgage.
Step 3 – Find a lender.
Some homeowners choose to refinance with their current lender. Others prefer to shop around for the best rate. The most important thing is to work with a lender that has established a solid record of customer service as well as affordable rates. The mortgage professionals at eLEND not only provide invaluable industry insight into the refinancing process, they are also committed to offering personalized, one-on-one service. If you're not already one of our valued borrowers, please consider reaching out to eLEND for your free mortgage refinance quote.
Also keep in mind that not all lenders are able to offer certain types of loans. The popular FHA loan, for example, can only be offered by lenders that are approved by the Federal Housing Administration. eLEND is proud to be one of these FHA-approved lenders. Homeowners who already have an FHA loan may even be able to refinance into the same type of government-backed loan through a simplified, streamlined process through eLEND. Contact us today to learn more!
Step 4 – Compare rates and programs.
Once you've made contact with a trusted lending professional, he or she can help you review the various refinancing programs and rates available. This is where having a reliable, knowledgeable and friendly loan consultant will really pay off. Your lender can help you identify your goals for refinancing and make suggestions as to which program will make the most sense in your situation. If you want to pay off your loan sooner for instance, your lender may suggest refinancing to a shorter term loan such as a 20 or 15 year fixed rate mortgage. If you simply want to lower your monthly payment, your lender might suggest keeping a long amortization period but capitalizing on a lower interest rate.
Step 5 – Lock in and finalize.
Once you've found a loan program that makes sense for your refinancing needs, talk to your lender about locking in your rate. As you probably know, mortgage rates can change multiple times throughout the course of any given day, so if you qualify for a low rate on a program that will work well for you, it may be a good idea to lock the rate as soon as possible. Exact rules and deadlines for locking in your mortgage rate can vary by lender, so discuss a plan with your lender and be sure to ask about floating or rate assurance policies. eLEND offers a great Rate Assurance program that allows eligible borrowers a free float down to the market rate if their locked-in rate drops .25% or more prior to their rate lock expiration date (subject to change – contact us for the most up-to-date program details). It's not available on every type of loan though, so give us a call for details.
Subscribe To Our Newsletter
Sign up with your email address to receive news and updates.