Summer 2014 Home Maintenance Checklist
June 7, 2014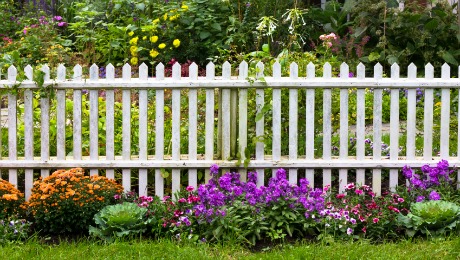 Remember those record-breaking snowfalls and subzero temps that penetrated much of the country in January and February? How about the chillier than usual springtime weather? Let's just say that for most folks, this summer will be bringing a very welcome change in weather!
Homeowners who are busy filling up their calendars with barbecues and vacation getaways should also set aside some time for routine summer maintenance.
There are a few to-dos that every homeowner should address before kicking back in the hammock or taking time out for a little warm weather R&R. Here's a handy checklist:
Check for Moisture
Make a thorough inspection for signs of any rot, mildew or excess moisture. Areas of concern are crawl spaces, foundations, basements, rooflines, and attics. Slow leaks or the after-effects of burst pipes can cause huge headaches. Warmer, drier summer weather allows areas that may have retained moisture to dry out and will be much easier to repair or replace now.
Give Your HVAC a Checkup
Is your HVAC system ready to do its job? Annual maintenance checks are the ideal way to keep your system in top form. Call in a pro to run yours through its paces to ensure that components like the fans and condensers are performing their best. This is one of those times when an ounce of prevention is worth a pound of cure.
Do your part by checking all of the filters and installing new ones as needed. Be sure to date them or keep track on a calendar, because they may need changing again before summer's end.
Clean Out Fireplaces and Wood Stoves
If you used wood or coal burning heating, you'll want do some deep-cleaning before it's time to run the AC. Go ahead and get these ready for next winter by shoveling ashes, vacuuming, washing the inside and cleaning the traps and doors. It's never a bad idea to bring in a professional chimney sweep for added piece of mind. Residue can build up over time, create harmful fumes and pose a fire hazard.
Let the Sunshine In
Before the really hot and humid days roll around, go ahead and do a whole house cleaning. Open those windows and doors and get busy! We often don't realize how much dust and dirt has set in during the months a house is closed up. Vacuum, mop and dust all surfaces. Next, clean or shampoo, drapes, rugs and carpets.
Defrost Freezers
Even those labeled "frost-free" should be given the once over, because they will likely see a lot of action over the next few weeks. Whether your freezer space is limited to the fridge or you have a separate chest or upright model, it's time to clean them out in anticipation of heavy use. Along with filling them with popsicles for the kids, seasonal berries and fruits, freezers are a big help when it comes to being prepared for guests and those days when you're simply too busy having fun to worry about dinner!
Give Your Yard and Garden Some Attention
This one is a no-brainer. Hopefully, you've already done a spring spruce-up which included: cleaning, weeding and mulching beds and natural areas, raking up dead grass and leaves, pruning overgrown shrubs and trees, and planting spring and summer plants and flowers.
When spreading mulch or straw, it is suggested that a 2-inch cover will better hold in moisture and keep weeds from sprouting. To prevent grass from moving into your flower beds, natural or plastic edging material is a good idea. Another method is to dig a small trench around each bed, which helps define them and will hopefully keep the grass at bay.
For those with irrigation systems, it is time to make an inspection so all systems are go. Along with the pump and timer, take a look around for any malfunctioning or broken sprinkler heads and make the necessary repairs or replacements.
Is your lawn greening up yet? Walk the property and see how it's doing. Look for bare spots and signs of pests such as grass-eating crickets and burrowing creatures, like moles and gophers: The DIY Network has a good resource on this topic.
If there are bare spots, you may want to tackle the situation yourself by sowing grass seed or planting sod.
The next item on the lawn and garden agenda is a tool check. Garden hoses and nozzles, trimmers, blowers, and lawnmowers will likely see heavy action this summer. Lawnmowers work especially hard, and need routine maintenance to perform their best. Do you know how to change the oil, sharpen the blade, and lubricate the working parts of your lawnmower? Here's an informative link that should help: http://www.wikihow.com/Maintain-a-Lawn-Mower
Spruce Up Your Porch, Patio or Deck
Pressure washing is an easy way to get these areas ready for heavy use. Porch rails and ceilings, patio cement or tiles, and decking materials all benefit tremendously from pressure washing. Did you know that outdoor furniture can also be transformed to like-new with a low-pressure wash? It's also the natural first step to take before any painting, staining, or sealing is done.
Speaking of sealing, when was the last time your deck was sealed? This is another one of those annual to-dos that pays off by extending the lifetime of your investment!
Inspect Your Grill
Few things are as disappointing as being ready for a summertime cookout only to discover that the grill has bit the dust! Don't let this happen to you. Instead, review this tip list from Lowe's Home Improvement on basic grill maintenance.

That's it! Take care of your home and it will take care of you. Next how about your Summertime Preparedness checklist…?
Stock up on sunscreen
Shop for a new swimsuit
Get the fishing gear in order
Restring your tennis racket
Check camping equipment
Subscribe To Our Newsletter
Sign up with your email address to receive news and updates.
Subscribe To Our Newsletter
Sign up with your email address to receive news and updates.