How to Use Your Smartphone for Home Security
September 2, 2013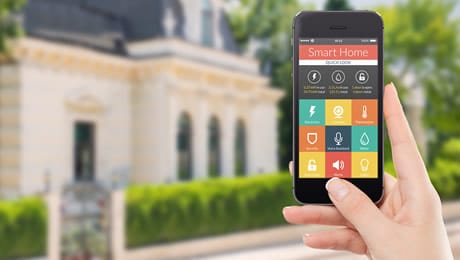 Is there anything today's smartphones can't do? It seems with the rapid development of mobile technology, consumers are now able to execute a multitude of tasks with simply the tap of a button or a swipe across their touchscreen. In addition to the many conveniences and mobile tasks management services that smartphones offer, a growing trend appears to be the use of smartphone technology for home security.
As it turns out, smartphones have all the same electronic components as a major security system, both on the sensor side and the monitoring side. But unlike high-tech home security systems, mobile phones are a much cheaper alternative. Another plus is that, since most people are never without the cell phones, the ability to respond quickly is enhanced with smartphones. According to Houzz, a popular home design website, many small companies have jumped on the bandwagon by designing software specifically for smartphone home security programs.
The way it works depends on the type of security app/device you use. If you choose to purchase a home security device, like the Canary Home Security Device for example, all you'll need to do is read through the instructions for set up and you'll be good to go. The sensor device will keep track of your home's security while your smartphone will act as the monitor.
The Canary system is a small, fairly inexpensive device that's roughly the size of a soda can. It has an HD video camera, microphone and motion detector. It can also detect the temperature of a room, air quality and vibrations. Learn more here.
If you choose to use a home security app – Presence, for instance – you'll actually need two smartphones for it to work. One phone will need to serve as the sensor while the other phone (the one you keep with you) will serve as the monitor. This is a great, inexpensive option for those who can't afford a typical home security system (the Presence app is free). It's also a great way to get new use out of an old phone that you might otherwise throw away or recycle.
Presence isn't as fancy as the Canary system, but it still adds a level of security by monitoring motion in your home. Presence sends photos or video to your monitoring smartphone if the sensor phone detects motion in the room. If you have enough old smartphones, you could put one in every room and have a complete home security system. Learn more here.
There are other home security apps and devices on the market and more seem to be coming out every day. They range in price from free to more than $250. Depending on your home security needs and budget, you may want to invest in a high-tech model that has a lot of capabilities – or you may be fine going with the cheapest option. Whatever you choose, before you make a final decision on purchasing a mobile home security system, be sure to research the different products and check out user reviews.
Here are a few more apps/products we found:
Related Posts:
Subscribe To Our Newsletter
Sign up with your email address to receive news and updates.