The Pros and Cons of Log Homes
September 16, 2013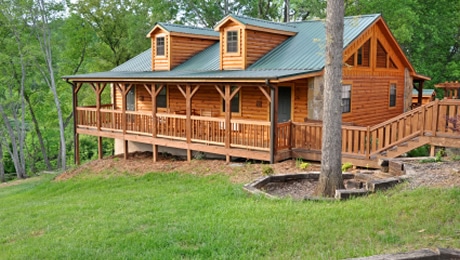 Ever dream of having your own cozy cabin in the mountains, or a quaint lakeside retreat? Do you want to capture the natural beauty of pioneer days while also enjoying the amenities of the modern age? If so, then a custom log home could be for you.
Unlike the log cabins of early American times, today's log homes offer innovative designs that create a comfortable, yet upscale feel. Most of today's log homes feature cathedral ceilings for an open, airy feel as well as grand stone fireplaces and modern kitchens. With such a perfect combination of luxury and laid-back comfort, it's no wonder so many people are gravitating toward this historic home design trend. However, before you decide to jump on the log home bandwagon, there are a few things you should know. Log homes have a lot of unique benefits, but they also have unique drawbacks.
Here's a look at the pros and cons of today's custom log home construction:
PRO: Green Building Material
The "Green Movement" is in full swing, as home buyers are becoming more eco-conscious and home builders are doing what they can to follow suit. We know what you're thinking… "How are log homes "green"? They use logs from trees, and isn't killing trees wrong?" Today's environmentally-conscious builders opt for materials from sustainable forests, which means the trees are grown specifically for the purpose of being cut down. By having a supply of trees from a renewable, sustainable source, the rest of the world's forests can be saved.
Another green aspect of log homes is the fact that manufacturers utilize all portions of the log to keep waste at a minimum. According to the National Association of Home Builders, "They use everything from bark…to wood scraps that become raw material used in carvings and other home products."
CON: Higher Maintenance Level
According to an article from Blue Ridge Country magazine, log homes often require a lot more maintenance than people think. This is because over time, the logs will likely shift, expand and contract with the changes in environment. Pests can be another nuisance, as the damage they cause is usually not covered by homeowners insurance. Carpenter bees and termites are the most common pests, according to Blue Ridge Country. When buying a log home, educate yourself on the best way to prevent and treat damage from these pests.
PRO: Energy Efficient
Log homes are great at maintaining temperature and conserving energy. This is due to the massiveness of the logs and their ability to absorb heat during the day and radiate it at night. This helps keep the home comfortable without having to rely as much on your HVAC. According to a NAHB study, homes constructed with solid log walls are generally 2.5% to 15% more energy efficient than standard stick-frame construction.
CON: Insurance Can Be Tough To Find
Log homes are insured a bit differently that regular homes. A lot of major insurance providers do not offer coverage for this unique home type. You'll need to do some research to find a reputable company that offers log home insurance. The manufacturer may be able to provide you with some options.
PRO: Available in Kits
Log homes can be shipped in kits or packages with most (if not all) the materials delivered at once. This not only helps reduce fuel costs and carbon emissions, it allows a fairly easy method for constructing the home. "The pieces included in the kits are designed to fit perfectly together for a pre-designed plan," according to Blue Ridge Country. Not all kits come with everything you need, however, so make sure you know what your kit contains before ordering.
To learn more about custom log homes, check out the following resources:
Log Homes Council – The NAHB's Log Home Council is an organization of log home manufacturers and builders who abide by a strict code of ethics and dedicate themselves to promoting quality log home construction. Potential log home buyers should contact them to request information.
Log Homes Council Directory – Search for a LHC member in your area through the NAHB's website. If you don't see a member in your state, don't worry. Log Homes Council members can ship their packages just about anywhere in the country.
Subscribe To Our Newsletter
Sign up with your email address to receive news and updates.