West Virginia Has Highest Homeownership Rate
September 30, 2013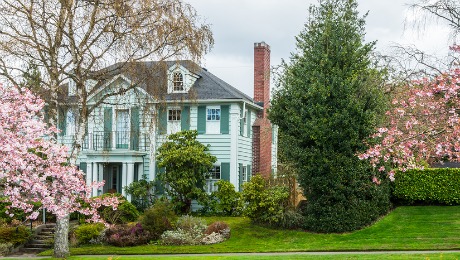 West Virginia has a lot to offer, from beautiful scenery to ample recreational opportunities to high-rated schools. But one of the latest distinctions West Virginia has earned speaks volumes about its real estate and local economy. According to recent information released by the National Association of Realtors (NAR), the Mountain State has the highest homeownership rate of all 50 U.S. states.
Affordability appears to be the biggest contributing factor in homeownership rates from state to state. It's not surprising therefore, that the states with the highest home prices also have the lowest homeownership rates. According to data from the U.S. Census Bureau, Washington, D.C. has the lowest homeownership rate at 45.3 percent. West Virginia is at the opposite end of the spectrum, with a homeownership rate of 76.2 percent.
According to the West Virginia Department of Commerce, the average price for a home in the state is 38.5 percent lower than the national average and one third the price of homes in the Washington, D.C. area. According to Sperling's Best Places, the overall cost of living in West Virginia is ranked at 86 (the rankings are based on the U.S. average of 100). An amount below 100 means the cost of living is lower than the national average.
The affordability of real estate in West Virginia seems to be holding strong. Even with recent increases in home prices and slight upticks in mortgage rates, home sales in West Virginia have gone up. According to information from Zillow, total home sales for August were 25 percent higher than the month prior and 25.8 percent higher than the amount of homes sold in August 2012.
Here are a few more WV real estate stats, courtesy of Zillow:
The median list price for homes in WV was $144,900 for the month of August. This represents a 3.6 percent increase year-over-year.
The median sale price in August was $137,000. This represents a 1.0 percent rise year-over-year.
The number of homes foreclosed in August decreased 0.2 percent year-over-year to 1.01 per 10,000.
The median rent list price in August shot up 5.3 percent year-over-year to $900.
Are you considering a move to West Virginia? Here are a few more interesting facts that might help you make up your mind:
West Virginia's crime rates are lower than the national average.
West Virginia's unemployment rate is below the national rate. As of this writing, the WV unemployment rate was 6.3 percent. The national rate was 7.3 percent.
The five largest private employers in West Virginia are Walmart, West Virginia United Health System, Charelston Area Medical Center, Kroger, and ConsolEnergy.
Other Topics You Might Like:
Subscribe To Our Newsletter
Sign up with your email address to receive news and updates.