Housing Starts Boosted By Single Family Construction
October 1, 2013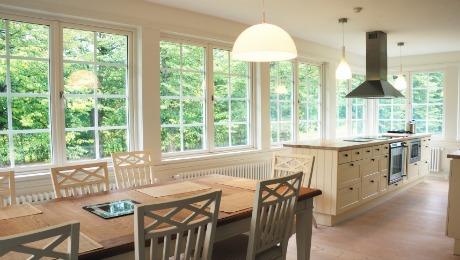 It took a few weeks to tally all of the facts and figures, but in the end, the news was good! The National Association of Home Builders issued a press release in mid-September which confirmed that in August, the number of single-family home starts grew by 0.9 percent by the end of August. The seasonally adjusted rate revealed a grand total of 891,000 units. The data was compiled from information gathered through the U.S. Department of Housing and Urban Development and the U.S. Census Bureau.
For the purposes of clarification, please note that the term "single-family housing starts" refers to the number of new construction projects of that type being initiated in a given month. Be aware that much of the nation experienced, mild, dry weather in August, which is always a plus for construction starts! It is also exciting given that the surge in these projects took place during the last month of the summer, which is often a time when things begin to slow down.
The NAHB chairman, Rick Judson, who is a home builder in Charlotte, NC, noted that, "Overall, this is an encouraging report as builders are seeing pent-up demand begin to be released for single-family homes despite headwinds such as rising mortgage rates and tight credit conditions." The NAHB's chief economist, David Crowe, observed that construction within the multifamily or apartment market is also beginning to catch up with the continuing demand.
As revealed by the NAHB press release, here is how the single-family starts break down: "Single-family housing starts rose 7 percent to a 628,000 unit pace. Regionally, single-family starts activity rose 9.6 percent in the Northeast, 7.1 percent in the Midwest, 2.3 percent in the South and 17.5 percent in the West."
During August, single-family permits posted a 3 percent gain to 627,000 units, which reflects the best pace since May of 2008. In taking the analysis region by region, the number of single-family permits increased 2.9 percent in the Midwest, 2.5 percent in the South, 5.3 percent in the West and held steady in the Northeast.
What Are New Home Owners Looking For?
So, taking all of this new construction activity into consideration may make you wonder, just what are all of the future new homeowners after when it comes to a single-family residence?
Based on numerous trend indicators such as those reported on HGTV, Better Homes and Gardens, and the online site, Houzz, today's future homeowners are quite set when it comes to their list of must-haves.
Energy efficiency is hands down the most important feature for home builders, architects, and designers to incorporate into the ideal single-family home. Some of the most requested components are solar capabilities, energy efficient appliances, recycled materials, built-in rain barrels, and mindful landscaping. Rounding off the list are sustainable construction materials, low VOC paints, stains, and adhesives.
Of course everyone with a smart phone, wants a "smart home" to go with it! Technological seamlessness is another popular must-have for single-family properties. Along with having wireless capabilities throughout, there are more innovations on the scene. New high-tech generators activated by a mobile phone, that can manage a home's HVAC, electrical, irrigation, and security systems are high on the lists of many.
The trend towards upscale kitchens and baths is not going away any time soon. In a desire to create the perfect nest, where everyone enjoys spending time, it has become necessary to make the absolute most of these heavily used areas. Cozy kitchens with workhorse appliances and inviting seating areas are signaling the desire for many to slow down and spend time together before, during and after, mealtime.
Spa-worthy bathrooms make home owners feel pampered and luxurious, and who doesn't want that?
It may have to do with the continued push to get more fresh air and exercise, however, for whatever the reason, Americans are adding more al fresco kitchens, family rooms, and showers than ever before. Even for homes on small lots, with just enough room for additional defined spaces, beyond the landscaped areas, this continues to be a huge trend.
If you are considering buying a new home, be sure to give eLEND a call at (800) 634-8616.
Subscribe To Our Newsletter
Sign up with your email address to receive news and updates.