Tips for Buying a Home in the Fall
October 10, 2013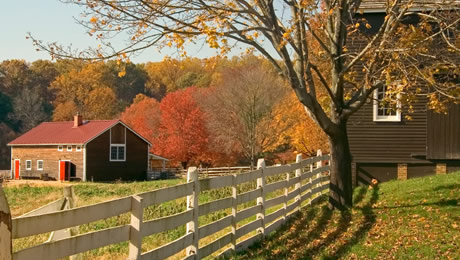 If you have heard that spring and summer are the hottest seasons for home buying, then you've heard correctly. Historic data from the National Association of Realtors confirms that in the U.S., the months between April and July have the highest number of home sales. Do not be discouraged if it just so happens that your season for house hunting is destined to take place during the fall. Although there may be fewer properties to choose from, waiting until the frenzy is over can be very beneficial. For example, sellers whose properties received little interest may be motivated to reduce their listing price. They also may be more willing to make concessions in an effort to secure a qualified buyer. By September through November, a seller's desire to check the home sale off their "to do" list can be a big plus for fall home buyers.
As you peruse the market, here are a few suggestions to consider for buying a home this fall:
Figure Out Your Budget
Establish a budget and list of must-have features that you desire in a home. Include aspects such as square footage, amenities, architectural style, energy efficiency, and try to zero in on a neighborhood or general location.
Establish a Team of Professionals
Since there will likely be fewer listings this time of year, you'll likely have plenty of time to screen the professionals who will assist you in the home buying process. Seek references and recommendations from friends, family, and co-workers in the quest to choose a team you click with. Remember there are a lot of people involved in a real estate sale, including the listing agent, buyer's agent, lender, home inspector, real estate attorney, and appraiser. If you're not too clear on who does what in the process, take a little time to research who's who in the mortgage industry.
Get a Pre-approval Letter from your Lender
Go ahead and get pre-approved for a mortgage. That way, when the perfect property presents itself, you'll be ready to submit an offer. Discuss all of your financing options, and ask the lender about special loans, such as FHA, and USDA Rural Housing loans. Also weigh the pros and cons of adjustable rate mortgages (ARMs), whose introductory rates may be enticing.
Discuss Similar Properties with your Agent
Along with your real estate agent, analyze the comps for recently sold homes. Knowing how much comparable homes have sold for will give you a better feel as to what is a reasonable price. Also, the comps will help guide you in adjusting your offer price either up or down.
Don't Get Hung Up on the Temporary
Depending on where in the country your search takes place, fall weather could be picture perfect or less than ideal. In regions where winter's chill comes early, such as the northeast, try to visualize the property in all its glory on a gorgeous, sunny summer day. In the words of Mama Cass, if "all the leaves are brown," don't let it get you down – they won't be brown forever.
Pay Attention to the Landscape
Consider also how the landscaping will affect the home. As you look at property from the inside, take note of the views from the windows. In the fall and winter, with the leaves coming off most trees, are there unobstructed views of breathtaking scenery or unsightly eyesores? Are the trees situated so they allow warm rays of sun and light to filter through? Try to imagine how it will be from the inside looking out in the spring and summer when the trees and shrubbery are lush and green again. Hopefully, they can provide shade and reduce your AC bill. On the other hand, if there are a lot of big, heavy branches hanging over the home, the roof and gutters may need more frequent attention.
Check Out the Home's Major Systems
Even though some parts of the country are pleasantly mild during the fall and require little or no heat, make sure to check out the home's furnace or HVAC system. As part of your house-hunting checklist, look into the insulation and drainage areas as well. Are leaves clogging up gutters and downspouts or is moisture draining adequately from the foundation?
Test the Home's Features
Since many irrigation systems are turned off in the fall and winter, if the property lists one, ask to see it in action. As another example, if the bathroom has a built-in space heater, make sure it works properly. Basically, don't just assume a home's special features will work when you need them to. Do your due diligence.
Be Proactive
When the home inspector makes his or her visit, stress the importance of doing a thorough evaluation of the home's roof and attic space. Now is the time to discover leaks and drafts, not in January!
Be Observant
Visit the home at various times of day, on weekdays, and weekends. Watching the traffic patterns at different times can alert you to any potential issues. For example, is that quiet corner that you saw on Saturday a major commuter intersection when Monday morning rolls around?
Don't Drag Your Feet
When you find the ideal property, it's probably best to move quickly. The main reason is due to the fact that the major holiday season is right around the corner, which typically makes everyone involved in the purchase process more anxious than usual. Holiday travel can also leave offices with skeleton crews and make the home buying process slower. Avoid delays by trying to lock in on a closing date before Thanksgiving.
Subscribe To Our Newsletter
Sign up with your email address to receive news and updates.