Fall Home Maintenance Checklist
October 12, 2013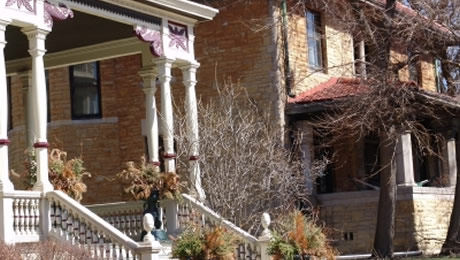 With the season shifting from long, warm summer days to the cooler, shorter days of fall, homeowners across the country are beginning to tackle those ever-important home maintenance projects before winter sets in. If you're a new homeowner, and are unsure of what projects are best to complete in autumn, take a look at our handy list of fall maintenance tasks.
1. Heating System
If you live in an area with cold winters, now is the time to give your heating system a once-over. For around $100, you can likely get a technician to inspect your heat pump or furnace to be sure the system is clean and in good shape so it can perform optimally during the cold days and nights to come. Need to find a good inspector? Ask around or visit the Air Conditioning Contractors of America (ACCA) website for a list of members serving your area.
2. Fireplace
Just like your heating system, your fireplace (if you have one) should be inspected and cleaned to ensure its performance and safety.
3. Roof
Check the roof for any weak, loose or missing shingles. If you live in an area that usually gets severe winter weather, this is a must. If you have low-lying branches that reach over the roof, now is a good time to cut them back. Fallen branches or strong winds and snow can cause expensive damage to your roof. Oh, and by the way, now may also be a good time to look over your homeowners insurance policy to make sure you understand what's covered and what's not, in the event of severe winter weather.
4. Doors and Windows
Now is the perfect time to seal any drafty doors and windows. Your heating system will have to work a lot harder to effectively heat your home in the winter if you're constantly losing warm air through the small cracks and gaps. Replace seals as needed or visit your local hardware/home improvement store for advice on sealing materials and methods.
5. Hot Water Heater
Hot water heaters tend to build up sediment over the years. Fall is a good time to drain your hot water tank and remove the sediment build-up. Be VERY careful, as the water in your hot water tank can cause serious burns. Always read instructions and follow safety guidelines. If you feel unsure about doing it yourself, hire a professional.
6. Landscaping
Time to cut back low-hanging branches, trim back shrubs, remove dead flowers and clear out your summer veggie garden. Keep your lawn free of excess leaves and other lawn debris by raking regularly. If you're too busy to keep up with it on your own, consider hiring a landscaping service to perform periodic lawn maintenance.
7. Gutters
Keep your gutters free of leaves and other debris by cleaning them out thoroughly. If you live in a place where leaves are a constant battle, consider investing in gutter shield. These are screen-like devices that can be installed over your existing gutters. This can keep your gutters free of leaves and debris, as well as prevent animals from nesting in them.
8. Air Filters
Although you should be changing out your air filters regularly, it becomes even more important as you use your HVAC system more. In seasons of extreme heat or cold, you'll be relying on your air system a lot more and it will be working harder. By making sure the filters are clean, your HVAC system will be able to perform better (and you'll likely save money on your energy bill).
9. Insulation
Check the insulation in your attic and/or basement. Not sure if you have enough? Check to see if your attic floor joists are easily visible or the level of insulation is level with them, then you probably need more. For basements, make sure the insulation is free of dark or dirty-looking spots. These could be signs of dampness or mildew. Replace, if needed.
10. Outdoor faucets/irrigation systems
To prevent freeze-ups and burst pipes, you should turn off valves that go to outdoor faucets or spigots and completely drain the lines. Unattach hoses and other watering devices to keep them from storing excess water and freezing, which could damage them.
For more home maintenance help, check out some of our related posts here:
Subscribe To Our Newsletter
Sign up with your email address to receive news and updates.