Frequently Asked Questions About Buying a Condo
October 22, 2013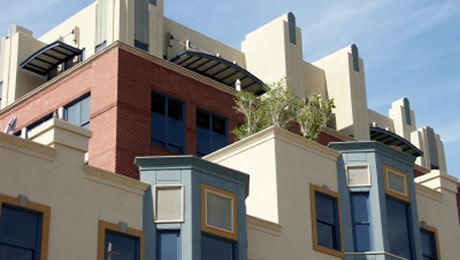 Owning a home comes with a great deal of benefits, but not everyone wants to invest time and money into the upkeep of a traditional stand-alone house. Condos are a popular choice for buyers who want to enjoy homeownership, but prefer a more low-maintenance lifestyle. Not only do condos provide homeowners with a lighter maintenance burden, they also can provide a range of amenities and sense of community that can be tough to find in a typical neighborhood. However, buying a condo can present a few special challenges that are unique to that housing type.
Before you commit to buying a condominium, here are a few of the most common questions that potential buyers are likely to ponder:
How Hard is it to Get a Condo Loan?
Condo loans are a bit different that typical mortgage programs for single-family homes. Unlike with a typical single-family home, a condo loan is contingent on both the borrower's qualifications as well as the condo association's. Lenders want to see that the condo community is healthy, doesn't have a lot of vacant units, isn't in debt, etc. The frustrating thing about this is that the borrower has no control over the condo association's situation. If both the borrower and the condo association can show that their finances are favorable, then approval shouldn't be difficult. Each lender will have their own set of standards, however, so talk to your lending consultant for the specifics on what they're looking for.
How Expensive are Condo HOA Fees?
This depends on the condo community. Smaller communities that don't offer a lot of amenities will likely have lower HOA fees than a community that has a pool, tennis courts, or clubhouse. Also, if the community is larger, they may have higher landscaping costs, which are generally rolled into the owners' HOA dues. When you're looking at condos for sale, always ask your real estate agent to help you investigate the HOA dues and what exactly those dues will cover.
Do Condos Have Good Resale Value?
Generally, condos are considered a riskier investment, as their value depends on the state of the overall community. Just like when you apply for a condo loan, when you sell your condo, the market value will likely be affected by things like the HOA's situation, how many vacant units are in the community and whether or not the community offers various amenities. Also, the value of condos will depend greatly on the local real estate market overall. During the recession, home values plummeted across the board and condos were no exception. Now, in many parts of the Country, values are on the rise again.
Value also depends on the condo's locale. Certain densely-populated areas like Miami, Phoenix, New York or San Francisco may have better condo markets than places that are more rural. Have your real estate agent help you research condo values in your area and see how they've changed over time.
How is Condo Insurance Different than Single-Family Home Insurance?
Unlike a typical freestanding house, a condo is often insured partially by the owner and partially by the HOA. Exact rules vary, so always confer with your real estate agent and insurance agent for details. The homeowner's policy and the community's master policy should explain the parameters of their coverage. Obviously, as a condo unit owner, you are not responsible for insuring the entire complex. However, the owner is usually responsible for insuring everything within the walls of their individual unit.
Something worth noting is that there are two types of coverage for your individual unit: content and structure. Content coverage may insure everything in the unit that isn't "attached" to the unit itself. Structure coverage may insure the things that are considered part of the unit itself. Your furniture, clothing, electronics and other personal property would typically be considered content while cabinets, light fixtures and flooring would be considered structure.
Will I be Able to Rent Out My Condo?
A lot of people who are interested in buying investment real estate choose to purchase a condo and then rent it out. If you were able to snag a good deal on a foreclosure or fixer-upper, renting it out for extra income might not be a bad idea. But before you go signing on the dotted line, keep in mind that most condo communities put a strict limit on how many units can be used as rentals. These limits are put in place in order to keep the community's insurance costs lower, as rentals present a higher risk. These limits will vary from place to place, so this is something you'll need to know before you invest in a certain property.
For more information on buying a condo, contact a real estate professional in your area. If you'd like to get a free rate quote on a condo loan, feel free to contact us today! Call (800) 634-8616 to connect with an eLEND mortgage expert or submit your information through our easy-to-use online rate request form.
Subscribe To Our Newsletter
Sign up with your email address to receive news and updates.