Distressed Home Sales Fall
October 25, 2013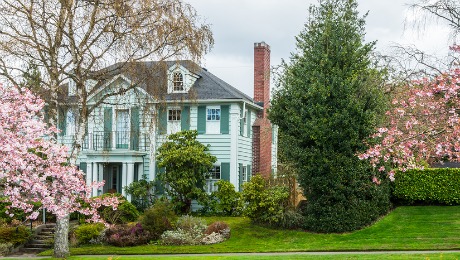 As the foreclosure inventory continues to decline, sales of distressed homes continue to account for a smaller share of overall real estate transactions. According to information from the National Association of Realtors (NAR), roughly 12 percent of Realtors who reported a sale in the August REALTORS® Confidence Index Survey sold a distressed property. This figure is substantially down from levels seen in the past few years.
Since February of this year, distressed sales have been on a steady decline, according to the NAR. Going even further back to the spring of 2011, a definite trend can be observed: foreclosure and short sale transactions have been falling year over year, even though month-to-month rates tended to fluctuate.
Here's a small sample of distressed sale figures from the NAR:
February 2011 – Distressed sales accounted for almost 40 percent of all real estate transactions. Figures would increase slightly in March, but begin to drop steadily until August of that year, when the share of distressed properties reached approximately 31 percent.
October 2011 – Distressed sales accounted for roughly 27 percent of all real estate sales. Figures would continue to increase steadily until January of 2012, when the share of distressed properties reached approximately 34 percent – but stayed below January 2011 levels, which were approximately 36 percent.
May 2012 – Distressed sales accounted for just under 25 percent of total real estate transactions. Levels would go up and down over the next several months, but remain well below levels from 2011.
February 2013 – Distressed sales reached just over 25 percent of total real estate sales. The rate would fall sharply the following month, and continue to drop.
Foreclosure Discount
Not only has the rate of distressed sales been dwindling, the foreclosure discount has been fading as well. The foreclosure discount is a figure that represents the average amount of savings a buyer could benefit from if they chose to purchase a distressed property.
The NAR reports that for the past 12 months, properties in "above average" condition have been discounted by an average of 10-11 percent. Properties in "below average" condition were discounted at an average of 15-20 percent. Properties in "average" condition were discounted 10-13 percent.
The two factors involved in the declines include an increase in demand for real estate and a lack of available inventory. With fewer foreclosures and short sales on the market, naturally there will be fewer reported sales. Likewise, the higher demand for property has made it so that foreclosure prices aren't as outstanding as they were a few years ago. Of course, that's not to say there aren't still some great deals out there. Depending on the region, distressed home prices may still be significantly lower than typical home prices.
If you're looking for a new home or investment property in Nevada, for example, you'll be glad to know that this state had the highest rate of foreclosures in August, according to data from RealtyTrac, a website that tracks foreclosures and other real estate info nationwide. Other states that had a hefty foreclosure inventory included Florida, Ohio, Maryland, Delaware and Indiana. These states all had higher foreclosure rates than the national rate of 1 in 1,019. (source: http://www.bankrate.com/finance/real-estate/top-10-states-for-foreclosure/)
Other Topics You Might Like:
Subscribe To Our Newsletter
Sign up with your email address to receive news and updates.