When Lease-to-Buy Makes Sense
November 14, 2013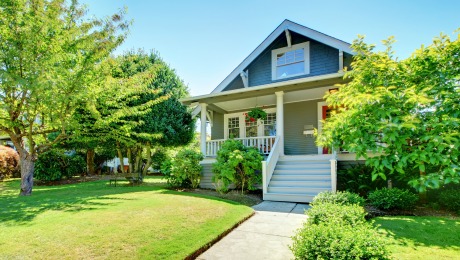 In the aftermath of the credit crunch, many mortgage lenders tightened their loan requirements in order to avoid another economic crisis. This was done to help protect both banks and consumers from financial loss, but it made homeownership a little more difficult for some would-be buyers. That's when the lease-to-buy option began regaining popularity. Such a scenario provides renters with the opportunity to lease a property for a specified amount of time, and then have the choice to buy the home when their lease is up.
Benefits of Lease-to-Own
The lease-to-buy plan is also appealing for those individuals with less than perfect credit. Renting with a goal of committing to buy the home in the future establishes an excellent incentive for consolidating debt and cleaning up their credit score. Keep in mind however, that just because you have less-than-perfect credit doesn't automatically mean you won't qualify for a mortgage. There are a few lenders, including eLEND, that offer home loans to people with lower credit scores.
It is also a positive choice for sellers. A home that failed to sell may suddenly generate monthly income when placed on the rental market. Tenants who are aspiring home buyers also tend to take better care of the property in hopes that it will one day be theirs.
Another aspect that makes lease-to-own appealing for possible buyers is the fact it allows them to perform a sort of "test drive" on the home before committing to ownership. It can be especially beneficial for those individuals and couples who are not sure they can or want to take on the responsibility of owning a home.
Even developers with a backlog of unsold homes and condos are finding that making the properties "lease-to-buy" is an effective solution. Eric Gedstad, a manger with the development firm, MassHousing in Boston, recently explained for realtor.com contributor, Phoebe Chongchua how the process works. According to Gedstad, "If they would like to purchase the unit that they are renting any time within the next year, they can do so for a fixed price and they would have first dibs on it."
The Details
In discussing how lease-to-buy agreements work, Chongchua notes that there are a variety of ways they can be created. It is advisable to enlist the services of a professional real estate attorney who specializes in contracts in order to protect both parties. One of the most typical ways this type of transaction occurs is when the landlord/owner/seller, makes the offer for the tenant to buy the property for a specific price, within a definite time frame. That period is often within one to three years. The tenant is then usually expected to pay a non-refundable fee, known as an "upfront option." Finally, part of the monthly rent may then be applied to go towards the down payment.
From a buyer's point of view, it is a way to cover all the bases because once initiated, he or she is the only one who will have the option of buying the property within the stated time frame. Usually, part of the rental payment will be applied towards the home's equity. When the purchase process goes into motion, some of the rent is also used for part of the down payment. It can establish peace of mind for the buyer since a binding contract is created throughout the agreed upon number of months or years. It is also a possibility that the renter will be allowed to buy the home at any time within the contract period.
Locking in the Sale Price
More good news for prospective buyers is that when home prices start to appreciate, they have already locked in to an agreed upon selling price. In a depreciating market, the reverse is also true – however, according to numerous sources, including the National Association of Realtors, home prices (in many marketing) are currently on the rise!
For sellers, a lease-to-buy arrangement can be attractive for both the cash flow potential and the fact that if the deal falls through, they're entitled to keep the upfront fee. When a property has failed to sell, transitioning into the rent-to-own category opens the door for many more types of prospective buyers, including investors. Owning the home while it remains a rental also provides the seller with a built-in tax shelter.
Other considerations for this type of arrangement would include the following:
Have a professional home inspection done-make the required repairs or adjustments
Document the home's condition, inside and out, with detailed, dated, photographs
Make sure there are no liens against the property
Have an experienced real estate attorney handle the terms of the contract and draft a tentative purchase agreement
Every aspect must be in writing, such as rent, down payment and purchase amounts, time frame, maintenance responsibilities and so on.
All terms must be enforceable
To learn more about purchasing a home through a lease-to-own arrangement, contact a real estate professional in your area. If you have any home financing related questions, don't hesitate to give us a call at (800) 634-8616 for a free, no obligation consultation.
Subscribe To Our Newsletter
Sign up with your email address to receive news and updates.