How to Improve Your Home's Curb Appeal in Winter
December 22, 2013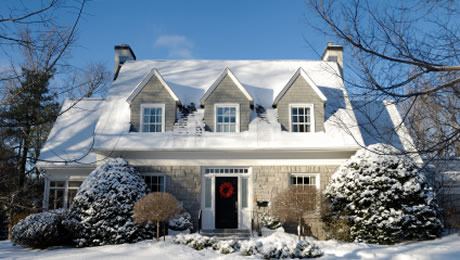 Whether you are preparing to list your home or just moved in, maintaining its curb appeal through the winter is a challenge. If only it were enough to rake up those last leaves of fall and wait it out until spring! It is certainly in the best interest of sellers to keep things looking tidy. After all, the front yard and entrance are what can inspire a potential buyer to schedule a showing – or not. For homeowners, having the outside as well as the inside fresh and looking its best can provide peace of mind. If you are less than pleased with your home's outside areas, here are a few suggestions on making your home shine through the winter season:
Rake Thoroughly
When all the leaves are finally down, give the yard a thorough raking. For good measure, clip dead branches and overgrown shrubbery one last time before spring. Finally, define the natural areas with a fresh layer of mulch or pine straw.
Give Your Mailbox a Makeover
If your mailbox is on the street, its curb appeal is directly linked to that of your home's. Spruce it up with a good cleaning or new paint job. If possible, make it an eye-catching focal point with a few plantings or colorful mailbox flag.
Check Entryways
Periodically check the home's entry points to ensure they are all accessible. Be on the lookout for trash, vegetative debris, animal waste, uneven walkway stones, exposed nails, loose handrails or steps in need of repair. Of course snow and ice present their own problems and should be addressed on an as need basis.
Keep Up Your Home's Exterior
During the winter months, homes usually shielded by leafy curtains of leaves are left exposed to the outside world. Would your home blush with embarrassment because of its peeling paint, dirty windows, or missing shingles? If the temperatures are not too low, perhaps a good pressure washing or coat of fresh paint would be the perfect quick fix.
Don't Forget the Small Details
Pretend you are a stranger. Pull up in the driveway and walk to the front door. If you experienced a sinking feeling instead of a little lift, it's time to get serious. Otherwise you'll turn prospective buyers away before they even have a look inside. Scrub, shine, and repaint if you must, but get that front entrance in ship shape! How about new hardware for the door, a fresh Welcome mat, and a few pots of annuals or pair of evergreen topiaries?
Clean the Gutters
If your home has gutters, make an effort to keep them clean. They can not work properly when filled with leaves, straw and twigs. When left all clogged up, gutters not only look untidy, they can also create structural problems by retaining moisture and promoting rot, mold, and mildew.
Have Good Lighting
Exterior lights are simply the icing on the cake when it comes to a home. Lining pathways with staked solar lights is as easy as pie and very affordable. For security, strategically placed motion lights are a definite plus. For those interested in selling a home, new exterior lights for entrances, decks, and porches are another quick fix that spells immediate gratification!
Don't Overdo the Holiday Decor
Since the months of winter also coincide with the most popular holidays for outdoor decorations, keep yours tasteful. Of course, the right swags, wreaths, and seasonal light displays can compliment a home and grab the attention of prospective buyers. However, over the top, dated, "Clark Griswold"-style decorations could backfire.
A few other considerations regarding outdoor decorations are to make sure there are no exposed cords that could cause someone to trip. Also, when the holidays are over, remove the outdoor decorations in a timely manner.
Related Posts:
Tips for Buying a Home During the Holidays
Subscribe To Our Newsletter
Sign up with your email address to receive news and updates.