The Top Towns for a Real Estate Turnaround
January 4, 2014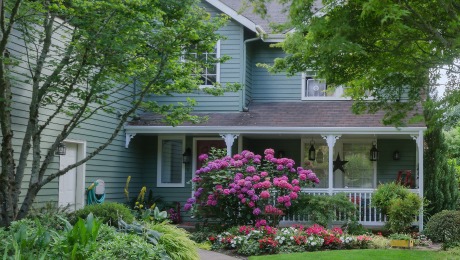 As we steam full speed ahead into 2014, the future of the nation's housing market is bright! Throughout 2013, economists and industry professionals scrutinized every positive development and setback. Thankfully, the positives far outweighed the negatives. Factors like property inventories, increased new construction, continuing low interest rates, and rising home appreciation rates demonstrate a true turnaround. Of course, some areas are faring better than others.
At the end of October Realtor.com published the results of its "Turnaround Towns Report" for 2013's Q3. The report examined inventory, median list prices, DOM, and the search and listing volume activity on the realtor.com site. According to realtor.com's analysts, "the data was culled from over 800 multiple listing services nationwide, and represents 98 percent of all for-sale properties in the U.S."
Three cities that have made the most significant comebacks are Detroit, MI; Santa Barbara, CA, and Reno, NV. In terms of recovery, those three are ahead of the pack.
Detroit, MI
Even though "Motor City" filed for bankruptcy in July, its housing market is slowly and steadily winning the race. In the second quarter of 2013, it was in the #7 spot for improving markets, and by the end of Q3, it had reached #1.
In the y-o-y comparisons, by the end of Q3, its for-sale inventory was down 24.5 percent and the number of days properties were on the market or DOM, had dropped by 33.9 percent. Prices were also up by 44.3 percent from where they were by the close of 2012's third quarter.
The explanation for just how Detroit's housing market managed this impressive turnaround comes down to heavy investor activity. Errol Samuelson, realtor.com's president, noted, "We've seen reports of significant international investment in Detroit over the past several months, and before the bankruptcy, so these are sophisticated investors, willing to take bigger risks and move quickly in markets that have not yet stabilized."
Other market watchers feel the situation has improved because the number of Detroit's available depressed properties has fallen by 34.7 in the last 4 years.
Santa Barbara, CA
Coming in second is Santa Barbara, CA. Over of the course of 2013, a severe reduction in both foreclosure inventories and existing properties have helped Santa Barbara's housing market bounce back. In addition to the indicators reviewed by realtor.com's report, Trulia's latest real estate overview confirms the positives. Year over year comparisons made from September 13th through December 13th, revealed that the average price per square foot rose by 11.3 percent to $563. Home prices and the number of sales were also higher than last year. Santa Barbara's presence on the "Turnaround" list is especially noteworthy due to the fact that it is the only remaining CA city to be listed.
Reno, NV
Reno, NV fills the number three spot on the list after several years of tough times. A surge in new construction, increasing sales prices and rising property appreciation rates have all played a role in Reno's rejuvenation. Along with the signs of recovery marked by the relator.com report, the Builders Association of Northern Nevada-BANN, confirms that land prices are up and the rate of new home construction has almost doubled within the last year. BANN's executive director, Mike Dillon stated his optimism for the "entire residential real estate market." Realtor.com's study confirm that this optimism is grounded, considering, that, "through the third quarter of 2013, Reno continued to reduce inventory at a rate of 19.8 percent and prices went up 28.2 percent, compared to the third quarter of 2012."
The cities that concluded the list of ten were: Fort Lauderdale, FL; Ann Arbor, MI; Dallas, TX; West Palm Beach, FL; Boston, MA; Boulder, CO; and Las Vegas, NV.
National Figures
In reviewing the big picture for the entire nation, by the end of Q3 the median age of the inventory was down from the year prior by 17.7 percent. From July through September, median list prices rose 7.6 percent in the y-o-y analysis to $199,128 for the third quarter. During that same period, on any given day there were an average of 1.96 million properties listed for sale. That number was down 3.3 percent from 2012 and explains why demand has heated up.
Another interesting point in the report was that several markets that have not been especially volatile showed "consistent, incremental improvement." Examples of those areas were cited as Ann Arbor, Dallas, Boston, and Boulder. It is believed that improvement within these types of markets may serve as a gauge for similar ones. When cities whose real estate markets have just been treading water finally make gains, many see that as a potential leveling force for the entire U.S. market.
More "Best Of" Posts You Might Enjoy:
Best Cities in the US for Street Food
10 Best States for Teachers

Best Places for Starting Over
Subscribe To Our Newsletter
Sign up with your email address to receive news and updates.