Tips for Selling Your Home in Winter
January 5, 2014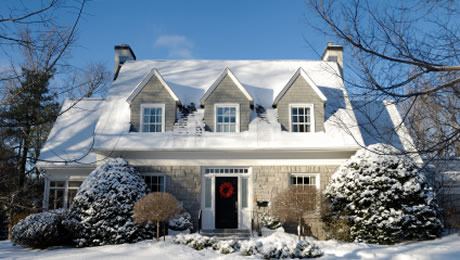 The winter months are not usually associated as the busy season for home sales. Most prospective buyers stay put until spring and summer, when shopping for a home and moving are easier. For families, the school term also plays a role in the timing of a new home purchase. For sellers who need (or want) to move on, selling a home from December through February is definitely more challenging. In cold, cloudy, snowy, and otherwise dreary weather, it definitely takes a little extra effort to get your property noticed. Here are a few suggestions for selling a wintertime listing more quickly.
Make a clean sweep.
Pull out all the stops and get a jump on the spring cleaning routine. This means inside and out. If weather permits, clean up the yard, mulch the beds, and anything else to boost curb appeal. If possible, scatter a few cheery pots of annuals at the front entrance and buy a new welcome mat.
Give all of the window and door panes and frames a thorough cleaning. Remove any depressing eyesores from view, such as broken garden equipment, dead plants, or dirty patio furniture.
Ensure that all entryways and walkways are clear and safe. Routinely blow leaves and if you live in a snowy climate, shovel and blow snow often. In addition to clearing walkways, it may be necessary to sprinkle salt or kitty litter for extra traction.
Inside, make the place sparkle. Vacuum, mop, dust, and look for cobwebs and dirt in out of the way places. Get rid of most personal items and clutter. Home stagers suggest ridding each room of 90 percent of its contents. In the winter, when the house is closed up, too much stuff can make a home look gloomy and uninviting.
Let in the light.
Keeping windows covered with heavy draperies is a no-no. Instead, let the outdoors in. Hopefully, potential buyers will be enchanted by unexpected scenic views or the sight of frolicking squirrels and busy birds visiting your well-stocked feeders! Unobstructed windows also create an open feeling and on clear days let in a few rays of energizing sunlight!
Keep it warm.
No one can look at property when they are freezing and uncomfortable. Even if you normally keep the thermostat set quite low, make an exception and get things toasty whenever your home is being shown. A good rule of thumb is to maintain a temperature somewhere between 70 and 75 degrees.
Add cozy touches.
Rather than go overboard with scented candles and air fresheners, keep it real. Fill the air with the fragrance of cinnamon kissed oatmeal cookies, mulled cider, or rich, hot cocoa. Chilled to the bone prospective buyers will likely enjoy a treat and associate the home with welcoming warmth.
Play on the power of suggestion by creating intimate settings and unexpected retreats throughout the home. Do a little research on home staging and give it a try. For example: a bright bowl of citrus or luscious cake on a pedestal stand in the kitchen, a lit fire, stacks of books and woven throws in the living room, plush towels, robes, and rugs in the bath, an inviting reading nook in a window seat, or an elegant table set for a romantic dinner for two in the dining room. To maximize the magic, add a little mood music, such as smooth jazz.
Attention to detail.
In addition to keeping your place spotlessly clean and ready to show at a moment's notice, also consider a few extra touches. Since many houses remain closed up during the winter, they can become extremely stuffy and filled with stagnant air. If weather permits, you may want to turn off the heat, open a few windows and doors and air things out. Be diligent about changing filters and if you burn wood in a fireplace, keep it clean when not in use.
Keep carpets vacuumed and pet areas tidy. Speaking of pets, owners should be aware that furniture and throw rugs can retain odors that you and your family may have become accustomed to. Get a friend or relative's honest opinion on your home's scent and remedy any offensive odors.
Another idea is to keep shoe covers or slippers on hand for prospective buyers. That way, your floors will stay cleaner and house hunters will perceive you as someone who takes pride in their home.
Play up the perks in the home listing.
Of course you'll want to mention the neighborhood's good qualities, like accessibility to medical care, award winning schools, parks, and public transportation. You can also use a winter listing to your advantage by mentioning benefits unique to the season. Is the property near a ski resort, cross country ski trail, or secret ice fishing spot? Perhaps it is close to indoor conveniences that make shopping and recreation easier in chilly temperatures, like a mall, full service gym or big box hardware store?
Also, discuss your existing mortgage terms with your real estate agent and mortgage servicer. If you have an assumable loan, you might be able to use that as a way to market your home for sale. Assumable loans often carry favorable rates and terms, making them attractive to both buyers and sellers.
For more ideas on how to effectively market your home for sale in winter, consult with an experienced seller's agent in your area. He or she will likely have lots of great suggestions and years of experience to go on.
Subscribe To Our Newsletter
Sign up with your email address to receive news and updates.