The Top 10 Things That Sink Your Home's Value
January 7, 2014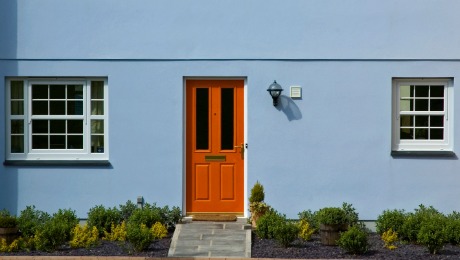 As all homeowners quickly discover, the proper care and maintenance of residential property is an ongoing process. In addition to ensuring that all systems are in good working order, there are many other considerations. Of course keeping a home the best it can possibly be doesn't only enhance the quality of life for its residents. Beyond creating a comfortable and beautiful place to live, making all the necessary repairs, upgrades, and updates, helps a property hold its value, and ensures that it will likely appreciate.
Whether a homeowner is preparing to sell the home in the next year, or the next decade, an action plan should be in place. Scheduling routine maintenance and improvements is a must in order to prevent common obstacles that could sink the home's value. As a homeowner or future one, here are ten points to monitor to keep your property value in check.
1. Lack of Curb Appeal
You either have it or you don't. To gauge your home's curb appeal, try walking or slowly driving by your place or pulling into the driveway. As you survey the areas immediately visible from the street, does a tranquil, tidy and overall inviting scene greet you? Or, are you met with random piles of clutter, peeling paint, dirty windows, and overgrown shrubbery?
Improving curb appeal is an easy fix. Taking the time to invest a little "sweat equity" is well worth it. Curb appeal is an essential selling tool for anyone who is thinking of putting a home on the market. If the outside is not appealing, prospective buyers will have zero interest in viewing the inside.
For quick and easy curb appeal projects, check out these ideas from Better Homes and Gardens: http://www.bhg.com/home-improvement/exteriors/curb-appeal/ways-to-add-curb-appeal/
2. Poor Paint Choices Inside and Out
Sometimes homeowners have no idea that their exterior paint or stain choice is way off base. Of course, bright, colorful exterior and trim paint on some architectural styles is historically accurate. However, for most homes, it's best to stick with a neutral, more natural palette. Another consideration that should tie into the outside color is the shade of the home's shingles or roof materials. Don't forget, that this plays a role in the home's overall "look."
Neutrality also rules inside the home. Stick to shades within the same family and when in doubt, keep ceilings and trim white. If you have no clue regarding paint choices, a visit to the neighborhood paint store should help.
3. State of Repair
A home's state of repair is all encompassing. While some issues are easily noticeable, others may only be detected through a thorough home inspection-like the one a potential buyer will conduct.
Many homeowners will ignore problems that require attention, to save money, time or both. Oftentimes, things may have been ignored for so long that they have become accepted as normal. For example, leaky windows have been taped instead of replaced, a throw rug hides a damaged floor, a bucket catches drips when it rains, or a toilet's handle must be jiggled to stop the constant flow of water.
Keep your home's value in tact by fixing problems immediately. Putting off much-needed repair work can have disastrous consequences and end up costing far more in the long run.
4. Eyesores
This is vital for anyone who would like to obtain the asking price when their home goes on the market. That palm tree adorned with the kids' old shoes, the gnomes cemented along the driveway, or the pond that has become so overgrown with lily pads that what lies beneath is uncertain, are all examples of things that could reduce your home's value. Even if the home itself is practically perfect, unkempt out buildings such as garages or sheds will cast their dark shadow and put the property in a bad light.
Have decorating choices been made inside the home that are no longer in vogue or lack mass appeal? It could be time to paint over that "Little Mermaid" mural in the bathroom or take down the NFL wallpaper!
5. Complicated Landscaping
Although attractive plantings can amp up curb appeal, keep in mind that not everyone is a master gardener. It's true that gardening is one of the nation's favorite pastimes; however, it may not be for everyone. Think twice before creating outside spaces, beds, and naturalized areas filled with finicky varieties of plants and shrubs.
It's best, especially from a resale point of view, to have a yard that is quick and easy to spruce up all year long. Use native, drought tolerant plants and perennials whenever possible. If you choose to add color throughout the year with annuals, confine those plantings to small, doable, and affordable spots, such as small beds, window boxes or planters.
6. Overwhelming Interiors
The mantra of interior designers everywhere, "less is more" is an excellent rule of thumb. Cluttered rooms, strange paint colors, heavy window treatments, and unusual fixtures can frighten away prospective buyers. As homeowners look ahead to the day when they decide to contact a listing agent, they should be continuously vigilant about keeping order. The packrats in the family should also be reminded that professional home stagers suggest that removing 90 percent of a home's contents before listing it is essential for success!
7. Failure to Update
It's no secret that today's homebuyers are hands down, the most knowledgeable ever. Thanks to scores of home improvement television shows and thousands of websites, the new crop of future homebuyers know what they do and don't want when it comes to property.
A few must-haves are: energy efficient components from doors to windows to HVAC to water heaters, solid-surface countertops, stainless steel appliances, solar and Wi-Fi capabilities, low or no VOC paints and stains, and of course hardwood floors. In terms of keeping up with the times, does your home cut the mustard?
8. Dated Kitchens
Known as the "heart of the home," anyone with plans of selling should invest in a complete overhaul and update.
[Related Post: Popular Kitchen Design Trends for 2104]
9. Dated Baths
Next to kitchens, investing in a bathroom-remodeling project pays off big. For years, professional organizations such as the National Association of Realtors and the National Association of the Remodeling Industry have stated this fact time and time again: "Renovating kitchens and baths adds value to your home."
10. Disregarding Details
Little things mean a lot, especially in the world of real estate. Make sure that even your home's tiniest details are in the best shape possible. Keep the front door clean and welcoming, woodwork and painted trim fresh, and kitchen and bathroom fixtures polished. Check switch plates for smudges, update lighting fixtures, clean windows and gutters, and how about those HVAC filters – when was the last time they were changed?
Subscribe To Our Newsletter
Sign up with your email address to receive news and updates.