Markets Where Asking Prices Are On The Rise
January 13, 2014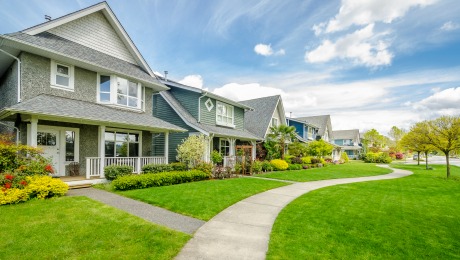 The U.S. housing market has come a long way, and now homeowners, buyers and sellers are beginning to see higher appreciation rates, leading to higher home prices. Back in November, REALTORMag published a list created by realtor.com of 10 U.S. markets where asking prices were surging. You might be surprised at which metros made the top 10 and which ones fell to the bottom.
According to REALTORMag, October's median list prices were up 7.57 percent year over year. This data was pulled from 146 metro markets. On a month over month basis, prices actually fell slightly in October (down 0.25 percent) but "remained resilient against the usual seasonal patterns of stabilizing inventory," realtor.com noted in the report.
Detroit Leads in Markets with Surging List Prices
Coming in at the number one spot on the list, Detroit experienced a +44.33% gain in median list price, which was $129,900.
Detroit has made headlines in the past for its epic struggle with the local economy. Now it seems things are getting back on track, thanks to investors who haven't shied away from distressed housing.
See what you can get for around $129,900 in "Motor City." Here are a few listings, courtesy of Trulia:
Second place went to the Stockton-Lodi, Calif. market, where median list prices jumped +40.80 percent to $245,000.
This metro area saw growth almost as impressive as that in Detroit. However, unlike in the Detroit market, the Stockton-Lodi area's prices are well above the $200,000 point. Nevertheless, there are still many homes available for a bargain in the area. And with mortgage rates remaining low, now may be a great time to buy or invest in the Stockton-Lodi market.
Want to see how much house you can get in Stockton, CA for $245,000? Here's a listing from Zillow: http://www.zillow.com/homedetails/5514-Bellini-Way-Stockton-CA-95207/15306911_zpid/
In third, the Santa Barbara-Santa Maria-Lompoc, Calif. market saw a +33.39 percent gain. This market's median asking price came in at $799,000.
Coming in at nearly $800,000, this area's median asking price will likely attract the more affluent families. And with prices continuing on an upward trend, those who buy now can probably bet on good equity within the coming years.
Here's what $799,000 can get you in Santa Barbara:
Other metro markets on the list included Reno, Nev.; Melbourne-Titusville-Palm Bay, Fla.; Fresno, Calif.; Las Vegas, Nev.-Ariz.; Oakland, Calif.; and Phoenix-Mesa, Ariz.
The number 10 spot went to the San Diego market, which experienced a +21.92 percent jump in median asking price, which was $449,900.
Interestingly enough, REALTORMag.com reports that only 19 markets posted declines in median asking price. These markets were led by Akron, Ohio, which posted a 7.93 percent year-over-year drop, and South Bend, Ind., with a 7.79 percent decrease.
Subscribe To Our Newsletter
Sign up with your email address to receive news and updates.
Subscribe To Our Newsletter
Sign up with your email address to receive news and updates.