Foreclosures Hit Six-Year Low
February 28, 2014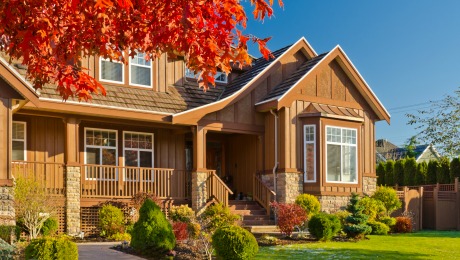 In spite of predictions that the U.S. would experience another wave of foreclosure activity in 2013, it appears that just the opposite is true. The firm RealtyTrac, which follows and lists the nation's distressed properties, recently released its latest findings on foreclosure rates – and the news is very good.
According to RealtyTrac's data, in 2013, the number of homeowners who filed for foreclosure dropped to a level not seen since 2007. The firm's analysts took into account notices of default, scheduled auctions and bank repossessions. Their findings, which examined 1.36 million properties, showed that the rate of distressed listings was down 26 percent from 2012.
To understand the significance of this figure, consider the fact that in 2010, when foreclosure activity was significantly high, the U.S. foreclosure rate stood at 2.23 percent. After all of the data was analyzed from 2013, that rate has dropped to 1.04 percent. This is noteworthy because it is very close to what's considered the historic norm for the foreclosure rate, which is just under 1 percent.
In terms of how many actual properties were in trouble last year, RealtyTrac's data revealed that one in every 96 homes reported at least one foreclosure filing in 2013.
Distressed Sales
Some housing market experts are still cautiously optimistic, particularly in regards to distressed home sales. However, the Polar Vortex apparently did not hinder the sale of distressed properties in January. The National Association of Realtors reported that, "Eleven percent of January sales were foreclosures, and 4 percent were short sales. Foreclosures sold for an average discount of 16 percent below market value in January, while short sales were discounted 13 percent."
RealtyTrac president, Daren Blomquist has acknowledged that fewer and fewer homes are entering the distressed market. He also explained that, "properties already in foreclosure are poised to exit in greater numbers in 2014."
Bank Repossessions Down
Another encouraging piece of news is that the number of bank repossessions also declined in 2013. RealtyTrac's findings show that nearly 463,000 homes were repossessed last year, which represents a drop of 31 percent compared to 2012. To put these numbers into perspective, consider that in 2010, more than 1 million homes were repossessed and there were 2.9 million filings for foreclosure.
Throughout the nation, numerous major metro areas such as San Francisco, Washington, D.C., Seattle, Denver, and West Palm Beach, are reporting extremely low inventories of available properties. Heavy investor activity and the phenomenon of both foreign and cash buyers have contributed to this and likely helped reduce the number of foreclosed listings as well.
Subscribe To Our Newsletter
Sign up with your email address to receive news and updates.