Awesome Home Organization Products
March 2, 2014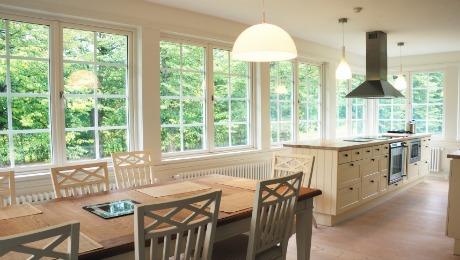 With spring and summer on the horizon, wouldn't it be nice to get your home in order? Do it now and you'll have more time for the fun stuff. Think ahead to those warm sunny days that could be filled with early morning walks, picnics, trips to your favorite places, time spent on hobbies — anything other than household drudgery!
If you are at a loss for just how to organize your home and its belongings, these products and ideas can get you on the right track. Some are ridiculously simple and others are cutting edge innovations. Either way, the name of the game is organization! Read on for solutions to some of a home's most out of order areas…
Kitchen & Pantry
Make use of the vertical space in dish and glassware cabinets with shelf organizers so no space is wasted. They come in a variety of styles to accommodate stemware, plates, teacups, and casserole dishes. See some ideas here: https://www.sevilleclassics.com/
Another idea is to use small tension rods. Place them vertically between shelves to create slots for storing platters, cutting boards, cookie sheets or plates.
Use dividers in cutlery drawers and beyond the regular place settings, store utensils this way: things that cut (knives, peelers, egg slicers, scissors, poultry shears); things that move (can openers, corkscrews, garlic press, tongs); things for serving and baking (spatulas, meat forks, pasta server, ladles, and serving spoons).
Keep the fridge tidy with individual storage bins like these: http://www.flickr.com/photos/hellohome/5629760468/sizes/z/in/photostream/
For bulk and staple items, store in clear glass or BPA-free plastic containers. Add labels so there's no confusion. This method also keeps items such as oatmeal, flour, sugar, pasta, rice, and grains fresher longer and you can keep an eye out for when supplies are low.
Another tip: hang it up! Mount peg board and small hooks in a convenient spot for tools, pots, and gadgets — or try this attractive trellis idea: http://www.bhg.com/kitchen/storage/organization/affordable-kitchen-storage-ideas/#page=17
Suspend an old sled, metal grate, iron fence gate or small ladder horizontally from the kitchen ceiling for an instant and interesting pot rack! For ideas, click here: http://dishfunctionaldesigns.blogspot.com/2012/10/creative-upcycled-kitchen-pot-racks.html
Repurposed magazine holders are great for storing wraps like plastic, waxed paper and aluminum foil.
Under the kitchen sink, try mounting a dowel horizontally across the top portion for an out of the way place to hang triggered spray bottles, like Windex and other cleaning products.
Linen Closet
Towels and sheets a disaster? Why not store neatly folded sheets in their matching (or not) pillow cases? Or, use wide lengths of ribbon to bundle up sheet and towel sets.
Kids Stuff
Help youngsters keep track of their socks and undies with an inexpensive over-the-door clear pocket shoe rack. It's also great for holding small toys and arts and crafts items: http://www.bedbathandbeyond.com/1/3/hanging-shoe-storage
Clothing Storage
The latest trend in closet design is the use of hanging, vertical cubbie units sized for shirts, sweaters, shoes, socks, and handbags. They are a nice way to see what you have and when neatly folded, they help keep clothing tidy and wrinkle-free. These are very affordable, easy to install, and virtually interchangeable. There are even hanging hampers! See a system here: http://www.neatfreak.com/closetmax
Garden Tools
If your garage or garden shed are filled with rakes, shovels, shears, and brooms thrown haphazardly here and there, the folks at Rubbermaid have just what you need! Their Deluxe Tool Tower Storage Unit can hold up to 40 tools. It is also on wheels and easy to move around. Another plus is its durability. Check one out here: http://www.rubbermaid.com/Category/Pages/ProductDetail.aspx?Prod_ID=RP091304
Electronic Devices
If a typical morning at your house is filled with frantic cries of "Where are my keys?" "Have you seen my wallet?" or, "Mom! Where did you put my phone?! And my charger?"…then, these two new products are definitely for you.
For use inside the home, a power station for docking and charging up to four devices is extremely helpful for reinforcing that "everything in its place and a place for everything" concept. Here is an example of one that is great for the home and office: http://www.organize.com/chargstationbr.html
To keep track of all of those small gizmos in the car, a product very similar to a mouse pad is now available. It magically grips the dashboard of the car and can hold sunglasses, cell phones, I-pods, etc. See one from the Container Store here: http://www.containerstore.com/shop?productId=10015042&N=&Ntt=%22smart+pad%22
Paperwork
Whether it's a stack of bills, kids' report cards, appointment reminders, or estimates for planned home improvement projects, most of us battle a barrage of paperwork at one time or another. Keeping things together and easily accessible in a 3-ring binder is not a new idea. However, an innovative product that offers removable file rings is a handy thing to have.
Carried by Staples, this product allows you to remove it when full, label the spine and store it in a hanging file, drawer or box. You can replace it with a new one for the next round of important business. Have a look: https://www.staples.com/1-inch-Staples-Better-Binder-with-Removable-FileRings/product_SS1092339
So…these suggestions should get you on track for tackling your home's hot spots for disorganization. Get it done now, because the lazy days of summer are on the horizon and you will have much better things to do!
Subscribe To Our Newsletter
Sign up with your email address to receive news and updates.