House flipping profits increased last year
March 16, 2014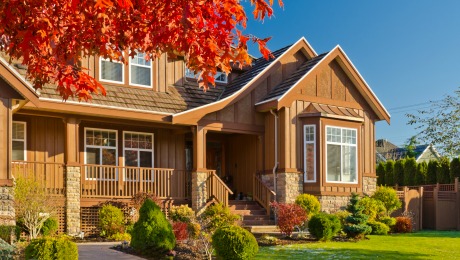 In 2013, more people bought homes with the intention of fixing them up and selling for a profit. Known as house flipping, this practice is generally more common when demand for housing is high and home prices are on the rise – two conditions that have become increasingly present in the market.
Recent data from online foreclosure tracking site RealtyTrac.com reveals that home flipping in the U.S. increased 16 percent last year. Furthermore, the average gross profit on flipped homes increased to more than $62,000 in the fourth quarter. This means that not only are more people turning to real estate as an investment, the return on such an investment has become more attractive.
RealtyTrac's Year-End and Q4 2013 Home Flipping Report showed a total of 156,862 single family homes were purchased and subsequently sold again within six months during the year. This figure is up 16 percent from 2012 and up a staggering 114 percent from 2011.
According to RealtyTrac, "Homes flipped in 2013 accounted for 4.6 percent of all U.S. single family home sales during the year, up from 4.2 percent in 2012 and up from 2.6 percent in 2011."
Home flips made up 3.8 percent of all sales in the fourth quarter, which was down slightly from 3.9 percent of sales in the third quarter and down 7.1 percent of all sales in the fourth quarter 2012 – the highest percentage of sales represented by flips in a single quarter since RealtyTrac began tracking home flipping data in the first quarter of 2011.
Average Gross Profit on Flipped Homes Increases
RealtyTrac reports that the average gross profit for flips was $58,081 in 2013. This is up from the average gross profit of $45,759 in 2012. The quarterly figure also increased, with the average gross profit for home flips coming in at $62,761, up from $52,746 in the fourth quarter of 2012.
Price Appreciation Stimulates Home Flipping
It's no surprise that home flipping increases when home prices appreciate. As the market and economy continue to recover from the downturn, more homes are gaining value and more buyers are entering the market.
"Strong home price appreciation in many markets boosted profits for flippers in 2013 despite a shrinking inventory of lower-priced foreclosure homes to purchase," said Daren Blomquist, vice president of RealtyTrac. "For the year 21 percent of all properties flipped were purchased out of foreclosure, but that is down from 27 percent in 2012 and 32 percent in 2011. Meanwhile flipped homes were still purchased at an average discount of 13 percent below market value in 2013, the same average discount as 2012, indicating that investors are finding discounted buying opportunities outside of the public foreclosure process — particularly in those markets with the biggest increases in flipping for the year."
A few notable markets where home flipping really took off between 2012 and 2013 include…
Virginia Beach (up 141 percent)
Jacksonville, Fla. (up 92 percent)
Baltimore, Md. (up 88 percent)
Atlanta (up 79 percent)
Richmond, Va. (up 57 percent)
Washington, D.C. (up 52 percent)
Detroit (up 51 percent)
To read more details on the RealtyTrac report, follow this link:
http://www.realtytrac.com/content/foreclosure-market-report/year-end-and-q4-2013-home-flipping-report-7971
Subscribe To Our Newsletter
Sign up with your email address to receive news and updates.