10 Best Cities for Female Professionals
March 27, 2014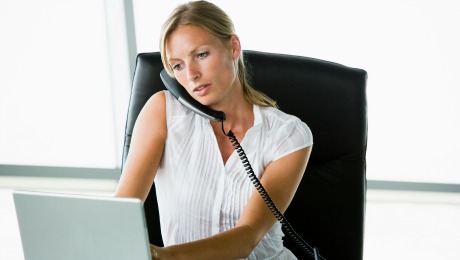 Did you know that more than 50 percent of the American professional and technical workforce is made up women? The Department for Professional Employees, reported in 2012 that, "Women make up just under half of the general workforce (47 percent), however, they represent a majority of those in professional and technical occupations (57 percent)."
It is no secret that females have been fighting for the same salary rates and benefits their male counterparts receive for decades. Although the situation has improved, there are still marked differences in how female employees are compensated and treated. However, there are areas throughout the nation where professional women enjoy the same perks and recognition as their male equals. The real estate research firm, Movoto, has published a 10-city guide naming which American cities are the best for female professionals. Some of these cities may surprise you!
To arrive at their choices, Movoto's analysts examined these five factors: commute time, recent job growth, unemployment statistics, adjusted earnings for women vs. cost of living and the number of women's professional groups per capita. This information was next compared to data from the U.S. Census Bureau. For the study, the criteria were applied to the nation's 100 largest cities. The top 10 list was chosen for how well each city scored on the five basic categories. Finally, the 10 cities were ranked, with #1 representing the best.
Best state for female professionals? Try Texas!
The Lone Star State had 3 cities on the list, including Lubbock, which earned the #1 rank. Laredo came in at #9, and Corpus Christi ranked #3.
Lubbock received high marks for its 3.19 percent job growth and low unemployment rate of just 5.5 percent. This is the type of combination that creates a hot job market. Also, the fact that the average weekly salary based on a 40-hour work week for a woman is $633, helped Lubbock climb to #1 on the list.
Omaha, NE was the second favorite choice for female professionals, thanks to a super low unemployment rate of 4.2 percent and the 13th highest average salary rate for women in the U.S. This city has been flying under the radar for several years and is now home to five Fortune 500 companies. It was also recently chosen by Kiplinger's as the third best city in the country in which to "live, work, and play."
The "Sparkling City by the Sea", Corpus Christi, TX is another shining example a place that treats its working women well. That definitely helped make it #3 on Movoto's list. Conditions are so positive here due to low commute times and another expanding job market. The city's economy is rooted in petrochemical manufacturing, two military bases, and a busy port that is the 5th largest in the country. It also helps that Corpus Christi boasts several college campuses, including a branch of TX A&M University. Institutions of higher learning provide scores of jobs and typically champion the rights of working females.
As the second Cornhusker State to make the list, Lincoln, NE came in to the #4 place in the top 10. Like Omaha, business has been booming and shows no signs of slowing down! In fact, last year, Lincoln was ranked #4 by Forbes magazine on its list, "The Best Places for Business and Careers." A shockingly low unemployment rate of 3.2 percent, a quick commute time of 19 minutes and a growing population are factors that shaped Lincoln into a thriving, hip, metropolis.
Rounding out the top half of the list, Wichita, KS was chosen as the fifth best city for professional females. According to the Movoto analysts, "Wichita is an entrepreneurial business hub in the U.S. and home to companies like Koch Industries and Spirit Aerosystems."
An average weekly salary of $649 and very affordable cost of living are two of the reasons Wichita is leading the way in workplace satisfaction among female professionals. Another reason is that getting to the office is a breeze with an average 20-minute commute.
As for the rest of the list, accolades go to:
#6 Pittsburgh, PA
#7 Winston Salem, NC
#8 Tulsa, OK
#9 Laredo, TX
#10 Boise, ID
"Big cities" aren't all they're cracked up to be…
Are you surprised that some of the country's hot and happening metro areas like NYC, San Francisco, Atlanta, or Chicago didn't make it? Seems that life in the big city is tough because of longer commutes, higher living costs, and more competition, which makes it more difficult to find a satisfying job with a good salary. Instead of spending 30+ minutes twice daily traveling to the office, workers living in one of the 10 cities listed above average 20 minutes or less each way. That means they have a lot more time away from work for fun, recreation, or just spending time at home sweet home!
See related post: Fewer Americans Carpooling to Work
Wondering how much homes cost in the 5 cities for professional women? Check out these listings:
Subscribe To Our Newsletter
Sign up with your email address to receive news and updates.