Choosing the Right Mortgage
March 29, 2014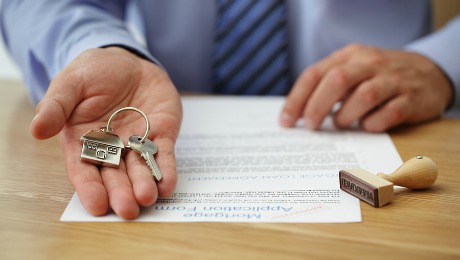 The expression, "timing is everything" certainly applies to the decision making process that goes into choosing a mortgage. Since buying a home is the single largest monetary purchase most of us will ever make, picking the right type of mortgage is critical for financial well-being. The number of different programs and variety of terms can represent a confusing smorgasbord of choices. When it comes to home loans, one size does not fit all.
It is absolutely critical that prospective borrowers take the time to map out their short- and long-term strategies and life goals. For example, a series of questions such as the following, should help a future home buyer determine which type of mortgage program fits their individual set of circumstances:
Will this be your long-term home, or a starter home?
How is your job security?
Are raises or the prospect of relocation in your future?
Do you have children or plan to start a family?
Will you be financially able to choose a shorter-term loan, which allows you to pay off the home more quickly?
Are you leaning towards a shorter-term loan to save on interest, and free up funds for other things, like college tuition or retirement?
Do you have an emergency fund?
Are you self-disciplined when it comes to money?
Would this be an investment property purchase?
Could you be eligible for any special loan programs?
To further analyze how different loan programs better suit one individual's needs than another, let's take a look at some of the most widely used mortgage types.
30-Year Fixed
Having house payments spread out over a 30-year span appeals to many borrowers because it reduces the monthly mortgage compared to loans with shorter terms. Being "house poor" is not as much of a risk with this type of arrangement. However, that financial flexibility comes with a price. It will take longer to accrue equity and home buyers end up paying more in interest.
Learn more about Fixed Rate Mortgages.
15-Year Fixed
Although they come with a higher monthly payment, a 15-year loan allows a borrower to build equity more quickly and save a lot on interest. Even though the monthly mortgage is substantially higher than for a 30-year home loan, in many cases, the interest rate for a 15-year loan is less than for a 30-year mortgage. Perhaps the biggest consideration is just how disciplined the borrower is. A shorter-term loan means more responsibility and could require a homeowner to become much more frugal.
ARMs
Adjustable Rate Mortgages have a varying interest rate and are called 3/1, 5/1 or 7/1 ARMs. The first number represents the number of years that the rate will go unchanged. After that, the rates will fluctuate. ARMs come with rate caps to protect borrowers should rates increase dramatically. They are considered a good idea for buyers who only want to own the home a few years, such as those planning a move, retirement, or lifestyle change, such as starting a family. An ARM is also practical for those in the business of buying, renovating, and selling properties for profit. One key consideration is that with monthly payments that could become higher than those of fixed rate loans, ARM borrowers should have a firm grasp of their finances.
Special Loan Programs
There are a number of mortgage programs designed to make the dream of home ownership a reality for those who may not easily qualify for a traditional home loan. The more flexible guidelines and smaller down payments offered through these types of mortgages have enabled millions of Americans to become homeowners. In addition, the American Recovery and Reinvestment Act, instituted in 2009, has made it easier for those who have suffered financial setbacks to secure a mortgage.
What sets these mortgage programs apart is that they are backed by federal agencies, including the Department of Housing and Urban Development/HUD, the Veterans Administration/VA, the Federal Housing Association/FHA and the U.S. Department of Agriculture/USDA.
With the Veterans Administration Loan Guaranty Program, military borrowers benefit from very competitive rates and terms offered by VA-approved lenders. It is one of only two options to secure a home mortgage that requires no money down. The other is the USDA's Rural Housing program. 100% financing is an opportunity few prospective home buyers can take advantage of!
FHA loans are great for first time home buyers who can benefit from a lower down payment and the possibility of a tax credit. There are FHA loans for manufactured homes plus programs to consolidate debt, refinance, or rehabilitate a fixer upper.
Be aware that regardless of which type of mortgage you decide on, each has its own set of eligibility requirements. Learn more on your own and then discuss which options may be best for you with a knowledgeable, experienced lender.
Visit these helpful links for further reading:
http://www.debtsteps.com/adjustable-rate-mortgages-explained.html
Subscribe To Our Newsletter
Sign up with your email address to receive news and updates.