Spring 2014 Real Estate Market
April 2, 2014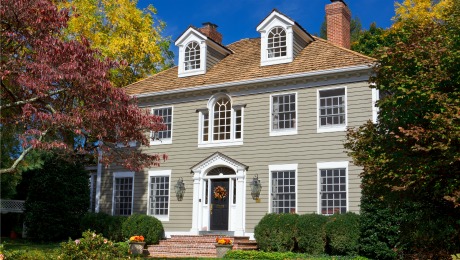 So, how do you think the country's real estate market fared after one of the most brutal winters the U.S. has seen in decades? Now, before you jump to any conclusions, keep in mind that the trend of shopping for a home online has really taken off. The National Association of Realtors 2013 Profile of Home Buyers, reported that 92 percent of respondents used the Internet as their main tool for conducting property searches. Now consider all of those prospective home buyers who were snowed in these past few months. Providing they had power, they likely had lots of time to search for their dream homes, right?
A story that aired in early March on National Public Radio examined how a number of factors that measure real estate activity have been surprisingly positive. It turns out that the Consumer Sentiment Index crept up 0.4 points in February. Data from the Commerce Department revealed that the sale of single-family homes jumped by 10 percent in January. And finally, the NAR's figures for the Pending Home Sales Index were also on the rise in January.
Now that spring is finally here, economists are busy speculating what the next few months will hold in terms of home sales. It is a given based on historic data, that the months between April and July are some of the most active for home sales. Market analysts and economists are quick to explain that a positive real estate market correlates directly to more jobs and increased consumer confidence.
In anticipation of a hot market for the spring of 2014, prospective buyers, sellers, and realtors are scrambling to get things in order. The after effects of repeated ice storms, heavy snowfalls, and high winds, mean that homeowners planning to list their properties really have their work cut out for them. A Realtor from Dallas, Jeff Duffey, explained to the NPR reporter that the time is now to, "Freshen up the landscape and add that mulch. Get your over-sized furniture out of the small bedroom and put more lamps in that dark room."
Low Inventory Still Holding Housing Back, says NAR Chief Economist
Even though spring is in the air and high hopes abound, the NAR's chief economist Lawrence Yun is not so quick to jump to overly optimistic projections. Yun has expressed concerns that the setbacks caused by the recession will take quite a while to solve. He says that housing inventories remain small because so many builders were forced to go out of business. Less construction of new homes means fewer homes on the market, which has driven up prices. Yun also said in a statement that, "Ongoing disruptive weather patterns in much of the U.S. inhibited home shopping. Limited inventory also is playing a role, especially in the West, while credit remains tight and affordability isn't as favorable as it was a year ago."
The economist predicted that the national median existing home price is expected to go up between 5 and 6 percent by the close of 2014. However, in the same discussion, Yun feels that the sales of existing homes will only reach a little over 5 million. Although that sounds like a lot, it falls short of last year's mark.
In direct contrast to Yun's forecast, the non-profit research firm, the Conference Board, just released its housing report for 50 major U.S. metro areas. Its prediction states, "existing single-family median home prices are expected to grow at an average annual rate of 2.1 percent between 2015 and 2018."
Something that economists, market analysts, real estate professionals, and builders all agree on is that a healthy housing market dramatically improves the overall economy. The news from the Bureau of Labor Statistics that 13,000 residential construction jobs were added in January surely means the uptick in demand will feed future job growth. After all, home construction and all that goes into getting a property move-in ready depends on the goods and service of a small army made up of builders, sub-contractors, retailers, designers, inspectors, and manufacturers.
More Jobs, Higher Incomes Points to More Confident Households
Another sign that the situation is destined to improve is the fact that fewer homes are underwater. People were stuck in dead-end situations, but now with a better job market and fewer depressed properties, homeowners have more flexibility to sell, move, or buy up. Stuart Hoffman, who is the chief economist for PNC Financial Services explained in the NPR story that housing should hold its own in 2014. Hoffman noted that, "The economy is adding jobs and incomes are growing, making households more confident. Big gains in stock prices over the past few years have boosted household wealth, and banks are gradually more willing to lend. There is also significant pent-up demand for new homes after potential buyers have put off purchases for years because of concern about the economy."
These factors are increasing demand in the existing tight market. That is why this spring and summer, serious sellers need to get their properties in ship shape. Fierce competition and low inventories in some areas will also mean that prospective buyers should get pre-approved and be ready for quick action!
See related post: Six Markets Where Real Estate Inventory is Up
See related post: Spring Home Maintenance Tips
Subscribe To Our Newsletter
Sign up with your email address to receive news and updates.