DIY Home Staging Tips
April 19, 2014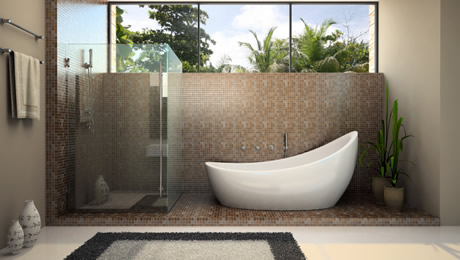 The term "home staging" was unheard of say, 15 to 20 years ago. Perhaps it became a truly hot topic thanks to the popular home decorating TV programs. However, it likely gained strong footing as a solution to remedy the flooded housing markets that resulted from the mortgage crisis. Regardless of how it came about, the concept of home staging is here to stay.
The popularity of this trend lies in the buzz among real estate pros that a professionally staged property sells more quickly and for more money. Those in the business of preparing a home for listing charge anywhere from $500 to $5000. The cost all depends on the services they provide. In addition to the stager's consultation fee, workers are often brought in for such things as landscaping, painting, window washing, and pressure washing. Because new and neutral sells, some home stagers have a selection of updated furniture and accessories they rent as part of their services.
Staging the property yourself is always an option. To do it effectively, you'll need to completely detach from your home and see it from a prospective buyer's perspective. Sometimes, it really helps to bring in a decorating savvy friend as well. The ultimate goal is to make the home move-in ready and appealing to the majority of today's buyers. Here are the basics:
Start with your home's exterior and outdoor spaces.
Consider if pressure washing and an exterior paint job are in order. Make sure the windows sparkle and spruce up the yard. You should literally, "leave no stone unturned."
Amp up curb appeal with fresh mulch in the beds and natural areas, and plant a few annuals while you're at it! Survey each entrance and take steps to freshen up doors, walkways, and steps. Give the same treatment to patios, porches, and decks. Of course, get rid of outside clutter, like toys and bicycles or figure out how to store them neatly.
Declutter the garage, workshop, or garden shed.
Remember, these out buildings are some of the first things a hopeful buyer will notice.
Before beginning your room-by-room staging effort, first, you will need to go through every closet, drawer, shelf, and cabinet with a fine tooth comb.
The mission is to deep-clean as you go and completely unclutter each area. If possible, remove off-season clothing and store elsewhere – it will make closets appear more spacious. In other rooms, it may be worth while to take everything out and then put back only a fraction of what was there in the first place. It is an accepted rule of thumb in the home staging business that the residence should be cleared of 90% of its contents in order to be successful. Be brutally honest and get rid of things you just don't need or use!
Next, enter the home through each entrance and see what catches your eye.
Are there overly bold paint colors, broken fixtures, stained window treatments, and outdated décor? Your goal is to make each room uncluttered, neutral, and appealing. Personal items, such as photos should be removed, along with pet beds and litter boxes. To help with this task, visit a few online sites that are filled with tastefully decorated rooms. Start with Houzz, HGTV, better Homes and Gardens and Domino.
Pay special attention to the bathrooms and kitchen.
These areas will make or break a sale! If it's in the budget, consider updating the appliances. Repair any broken items, replace old lighting, fixtures, and hardware, and perhaps add a new shower curtain, fresh towels, and rugs?
If one aspect of your place brings it down – change it!
For example, get rid of the textured ceiling, dated mural, water-stained hardwood floor, or past its prime wallpaper. Figure out how to make the home's bones the best they can be and play up its best features. Have a nice view? Take down heavy window treatments and maximize it! Is there a fireplace with lovely stonework or room with handcrafted crown moulding or custom cabinets? Take away distractions and accentuate the attention-grabbers!
Sound overwhelming? Then prioritize by addressing those aspects that will cast a negative spin on the property. Do what you can – even small changes make a big difference.
How to know if you have done a good job? You will want to stay here forever!
Subscribe To Our Newsletter
Sign up with your email address to receive news and updates.