Popular New Home Features
April 28, 2014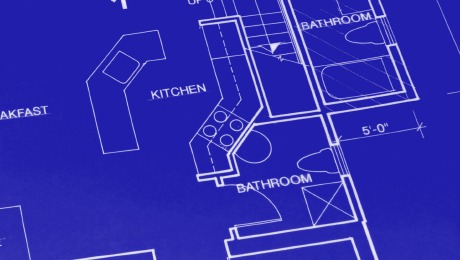 Remember garden tubs, wet bars, laminate counter tops, dark wood cabinets and trim? Although they may hold special places in the hearts of some homeowners, they represent home design trends that have quickly faded into the sunset.
Are you thinking, "Who cares? I am quite happy with my house?" If you ever, yes – ever – plan on selling your place, it's much easier to keep it updated on a regular basis. This does not mean latching on to every new design feature that comes on the scene or taking on endless remodeling projects. However, an astute homeowner should be aware of the revolving list of features current buyers are after. That way, you can keep an ongoing report card on whether or not your place makes the grade.
If you are a prospective buyer, it is important to stay on top of the latest home styles so you don't end up with a white elephant. Fixer uppers are one thing, but by considering what's hot on the new home construction front, you'll be less likely to make an expensive mistake!
The National Association of Home Builders (NAHB) is acknowledging April as "New Homes Month." As we sail into spring and the fourth month of 2014, the NAHB has surveyed its members throughout the U.S. to discover the most requested features buyers are looking for in a typical single-family home.
The survey revealed that, "convenience, livability, and energy efficiency are top priorities." As for specific features, the ones that are most likely to be part of the blueprint for a new home this year are:
a walk-in closet in the master bedroom
low-E windows*
a laundry room
a great room
It pays to know that today's homebuyers (30-somethings for the most part) have energy efficiency at the top of their list. In addition to the desire to save on utility bills, the up and coming generations of homebuyers see environmentally sustainable design and energy efficient components as a given not an extra.
In addition to Energy-Star rated appliances, windows, and doors, plus solar features, and programmable thermostats, builders are also receiving requests for reclaimed and repurposed building materials. Examples are insulation made from old blue jeans and flooring from recycled woods, such as river wood and leftover timber from historic demolition projects.
Existing homeowners should take notice that according to the 2009 American Housing Survey report that was based on a median per square foot measure, "existing home owners spent 78 cents per square foot per year on electricity, while owners of new homes spent 65 cents per square foot per year."
Along with saving money and doing the right thing for the environment, current house hunters are after function, comfort, and practicality. The NAHB's Chairman, Kevin Kelly, a home builder from Wilmington, DE, observed, "Newly constructed homes can suit the specific requirements of today's home buyers. Now is a great time to consider buying a new home, as consumers can take advantage of competitive home prices and low interest rates to find the perfect new home for their families."
As for the other most-requested home features, granite and other solid surface countertops are still in high demand. Other kitchen must-haves include a central island and double sink. Bathrooms that offer additional privacy for the toilet are another desired arrangement. The NAHB's survey also noted that front porches, outdoor lighting, patios, and 9-foot ceilings on at list the ground floor, are other frequently requested plans.
*Low-E Window – glazing thin metallic film or coating between two glass panes that selectively rejects some energy wavelengths, greatly reducing heat transfer through the glass.
Curious about some of these developments? Check out this article about "4 Things That can Date a Kitchen" from Remodelaholic.com: http://www.remodelaholic.com/2013/08/features-that-date-a-kitchen/
Subscribe To Our Newsletter
Sign up with your email address to receive news and updates.