Tips for First-Time Home Sellers
May 12, 2014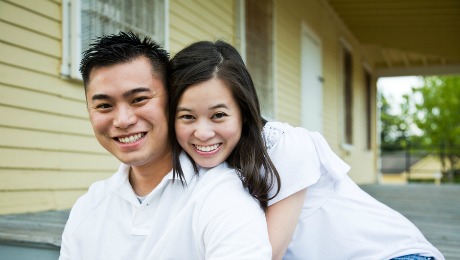 Selling a home is not something most folks plan to do on a frequent basis. For lots of us, owning a home is a long-term commitment. However, situations change, we may want more or less space, need to relocate for work or to be closer to family and friends. Since a home buy is typically the largest single purchase that any of us commit to, the thought of selling it can be an intimidating one.
Questions arise regarding the process of selling a property, including topics such as how to determine an asking price, prepare the home for the market, advertise it, and so on. Since it's not something we do every day, it pays to become familiar with the latest home selling strategies. First-time sellers especially can save themselves from anguish-filled weeks and months by taking a calculated approach. Here's how:
Find the agent who will be the best fit for you
Selling a home gets quite personal, with prospective buyers tromping through, opening doors and drawers, and questioning the owner's decorating style. Experienced real estate agents are skilled at coming in and accessing a property's strengths and weaknesses. They can help you review the comps of recently sold homes in the neighborhood and discuss what today's buyers are after.
For those reasons, it is vital that you use an agent whose personality and temperament complement yours. Seek out friends, neighbors, and co-workers for advice about which agents they've heard do a good job. Word of mouth is one of the most effective tools for tracking down a good real estate agent.
When you find several candidates, check their references, determine how well they know your neighborhood, what their average DOM* is, and how many homes they sold in the last year. Make sure they are up on social media and online marketing sites such as Zillow, Trulia, Houzz, Facebook and YouTube, because they are important venues for prospective buyers.
Get your home in ship shape condition
This step is essential before determining a listing price because when some things are taken care of, you may be able to ask for more than you originally thought. Discuss points with your realtor, such as having a home inspection and the benefits of home staging. A home inspector can pinpoint problem areas that will need to be addressed before prospective buyers begin scrutinizing your home. Take care of maintenance and repair issues now. If there are numerous concerns, another option is to disclose what they are and sell the home "as-is." Many sellers prefer that route, because quite frankly, sometimes getting a place "move-in" ready is a daunting and often expensive proposition.
In today's very competitive market, there are definite "to-dos" that can help sell a home more quickly and for a better price. Along with having the property in excellent condition, inside and out, decluttered and tidy, staging a property before it is listed is truly the way to go. According to the 2009 Home Gain Survey of over 2,000 Realtors, "it was discovered that home staging typically provides a 586% return on investment."
Make sure to address the home's exterior areas and spruce up the landscaping. Not only will this effort enhance the photos that will accompany the listing, ramping up the curb appeal will also entice those drive-by house hunters!
Finally, getting the place ship shape may also involve updating and replacing a few things. Because kitchens and bathrooms are the rooms that can make or break a sale, make sure yours are spotless, updated, and in perfect working order. Home features that have fallen out of favor are laminated countertops, wall-to-wall carpeting, and textured ceilings. How will your listing stack up?
Set your price
Keep in mind to make it a competitive figure and be aware of how the search criteria are set up on popular websites like Trulia and Zillow. Price it so it fits in more groups of listings. For example, an Oklahoma City couple explained in an msnrealestate.com blog that they, "first marketed their home for $155,000. But lowering it to $150,000 meant the listing appeared more often in search results." Needless to say, it sold just a few weeks after the price change.
Market the property
When you and your real estate agent are satisfied that your home is ready to show, decide how it will be marketed. Online is how 90 percent of today's buyers begin their property searches. Have professional photos and maybe a short "virtual tour" video made. Next promote your home through all of the available media outlets, including hard copy real estate booklets.
Be flexible
Being ready for a showing at a moment's notice or displaying a willingness to include certain furnishings or appliances, will impress many potential buyers. It sets up immediate good vibes and that is important.
Flexibility can also come into play where money is concerned. Refusing to budge on an offer that's close to the list price can taint a property's reputation, and word travels fast. Grand Rapids, MI Realtor, Pat Vredevoogd Combs, uses this example: "Want to sit with a house that won't move? Insist on getting the appraised value, the tax assessor's estimate or whatever you paid a few years ago." A home is only worth what the buyers are willing to pay…
Sources:
http://www.foxbusiness.com/personal-finance/2012/04/03/tips-for-first-time-home-sellers/
*DOM-Days on Market-how many days before an active listing is sold
Subscribe To Our Newsletter
Sign up with your email address to receive news and updates.