Tips for Renting out Your Home
May 22, 2014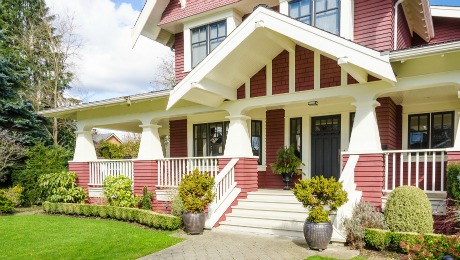 There are a variety of reasons why some homeowners find it necessary to rent out their primary residences. These situations may arise suddenly, such as a career change that requires relocating, unforeseen health or family matters, or military personnel who are being reassigned in a new location. Prospective sellers who'd hoped their homes would be snapped up quickly and are now looking at two mortgages is another scenario. These tips are not for individuals who bought a property for the purpose of renting or flipping it, but for those who must rent their homes out of necessity.
Secure a rock-solid, honest tenant.
Even though you may not have planned on being a landlord one day, it's time to act like one. Finding a dependable tenant is easier said than done, which is why this process must be handled with extreme diligence and caution.
Familiarize yourself with the tenant/landlord rights that apply to your area.
Next, research various types of applications and contracts for prospective renters. It is never a bad idea to retain an attorney for this process because that way, your rights will be protected.
You will need to obtain pertinent information such as their Social Security number, employment history, last known address, credit history and so forth. Be aware that some of those items will require their signed and notarized permission. Having these details will then allow you to conduct a background and criminal check. If you do not feel qualified for this task, hire a professional background-checking agency.
Do not fall for sob stories or make deals regarding reduced rent or waived deposits. Check all of their references and speak with their employer to ensure the individual is in fact who he or she seems. To see rental agreement forms, learn how to conduct a thorough background check and read more tips for landlords, Landlord.com has some great resources: http://www.landlord.com/
Figure out how much rent to charge.
Check out other rental homes in the area that are comparable to yours based on location, size, and amenities. You may not be able to recoup your entire mortgage payment, however, setting the monthly rate too high will deter prospective tenants. The goal is to rent it out quickly for a reasonable sum.
Let your lease do the dirty work.
The lease is essentially the binding contract between you and the tenant, which is why it is never a bad idea to employ legal counsel. The lease serves to clarify the rights and obligations of both parties. Because landlord/tenant laws vary from state to state and even county to county, it is best to let a professional guide you so your rights are not infringed upon.
According to Dianne Coscarelli, a member of the American College of Real Estate Lawyers, "A good lease complies with fair housing, rental, health and safety, and the tenant and insurance laws of your region."
Here are some of the key issues that a comprehensive lease should cover:
Lease agreement term – month by month or annual? For those trying to sell, month by month makes more sense so the property can sell and close more quickly.
Amount of the security deposit. If pets are allowed, have a separate pet deposit.
Clearly note which day of the month the rent is due and what the penalty is for late payments.
House rules, such as what is and is not allowed, like smoking, guests, parties…
Acknowledge how repairs, maintenance, and landscaping will be handled and paid for.
All of the tenants and their dependents must be included on the lease.
Home Owners Association rules and requirements, if those apply to the tenants.
What will result in an eviction and how it will be carried out.
Finally, if you are actively trying to sell the property, include the details regarding how showings will be handled. Clearly state your expectations for the tenants during scheduled showings.
Recheck the homeowner's insurance policy.
Chances are you will need a different insurance policy in order to rent to a tenant. Bryan Wolfe, who is the rental property insurance manager for the USAA (a Fortune 500 company that serves military members and their families with financial and insurance services) noted that homeowners in this situation should have rental property insurance. Wolfe explained in a USAA blog that, "In addition to covering the home's structure, personal liability and medical expenses, this policy includes loss of rental income in the event of a covered loss. However, it provides very limited coverage for any personal belongings you leave in the rental property."
Discuss renter's insurance with the tenants.
Your policy will not cover their belongings. Establishing their own insurance will make things much better for both parties should damage occur.
Don't go it alone.
Trying to market and sell a house is enough of a headache; do yourself a favor and enlist the help of a management company during the rental period. This is a must-do for those who will be relocating out of the immediate area. Use a licensed professional and find one through the National Association of Residential Property Managers.
These firms can also help secure a suitable tenant, collect the rent, take care of maintenance and repair matters, and deal with vacancies and the eviction process. Because the property managers are professionals, they also have the ability to be more detached and thus, more efficient and business-like than the typical homeowner. Yes, you will pay for their services; however, some degrees of peace of mind are just about priceless!
Mentally prepare for the possibility of eviction.
Things can turn sour on a dime and that cute little newlywed couple can morph into Bonnie and Clyde, causing you both financial and emotional misery. Again, this possibility is why any savvy landlord will want a knowledgeable attorney in their corner.
Related Topics
Tips to Make Your Move go Smoothly
Subscribe To Our Newsletter
Sign up with your email address to receive news and updates.