HUD to Offer Disaster Assistance to AR Storm Victims
May 30, 2014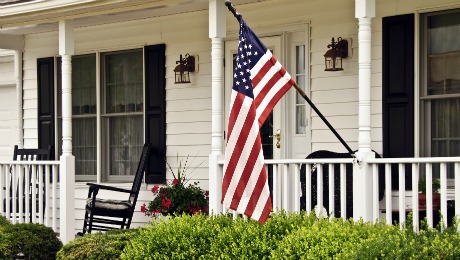 In late April, a series of strong thunderstorms and devastating tornadoes swept through several states, causing chaos, major damage and numerous fatalities. It is reported that the unsettling weather wreaked havoc in a 40-mile section of north-central Arkansas. High winds caused trees and flying debris to damage homes, businesses, and schools. Roofs were torn off, and entire structures were leveled to their foundations from the force of these tornadoes. Heavy thunderstorms produced widespread flooding, which caused even more destruction. The tiny town of Vilonia, which is just about 30 miles north of Little Rock was especially hard hit.
On Wednesday, May 7th, President Obama declared the region a disaster area and pledged to the community, "Your country's going to be here for you. We're going to support you every step of the way." The President's announcement came just eight days after the U.S. Housing and Urban Development Secretary; Shaun Donovan announced that it would step up federal disaster assistance to the state of Arkansas. Donovan noted that both homeowners and low-income renters who have been forced to evacuate their residences due to the effects of storm damage and flooding will be the agency's prime focus.
It is especially noteworthy that Secretary Donovan promised to help more than just those affected by the late April tornadoes. In addition to displaced families who were forced from their homes and must now rebuild, Donovan also mentioned, "Whether it's foreclosure relief for FHA-insured families or helping these counties to recover, HUD stands ready to help in any way we can."
So, just what is the agency doing to assist these individuals?
In a press release issued on April 29th, HUD announced that it would:
Give the state of Arkansas access to existing federal resources and use them towards disaster relief. The funds will come from HUD's Community Development Block Grant or CDBG and the agency's HOME programs. That effort will provide millions of dollars for those in need and specifically address housing and other services required by the recent disaster victims.
In an effort to speed up the process, federal HUD officials are also working with state and local HUD offices in an effort to expedite and streamline the process.
For those homeowners who were already experiencing hardship and financial stress because they were going through some phase of foreclosure, HUD granted a 90-day moratorium on foreclosures and extra time for those on the brink of foreclosure. That action only applies to home mortgages that are FHA-insured.
The federal agency reiterated the benefits of its mortgage insurance policy-section 203(h) program, which provides FHA insurance to storm victims who have either lost their homes or face the prospect of major repairs, renovations, or must replace the residence entirely. Eligible borrowers should have some relief from 100 percent financing, which does include closing costs.
Another section of the insurance program that is available to many disaster victims will make funds available for mortgages and property rehab. HUD's section 203(k) lets homeowners solve the problem through financing or refinancing the cost of repair with one single mortgage.
Also under this program's umbrella is section 108, which offers state and local jurisdictions federally guaranteed loans that will be used to renovate damaged properties. According to HUD's statement, "Funds allocated from section 108 may also be used for economic development and the repair of public infrastructure."
The agency declared that it will work in conjunction with FEMA and the state of Arkansas's governing bodies to locate approved housing providers that may have properties available in the hardest hit areas. HUD officials acknowledged that those providers might include both public housing agencies and the owners of multi-family homes. In the ongoing effort to serve the population in need, HUD also seeks to identify and employ experts who are familiar with their programs and how they are administered.
Subscribe To Our Newsletter
Sign up with your email address to receive news and updates.