Home Prices Rose in February
May 31, 2014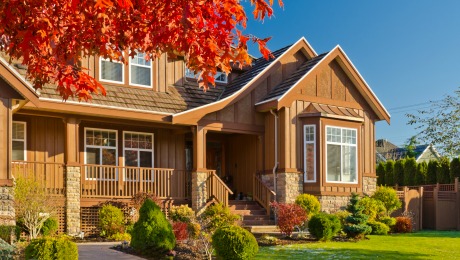 When reflecting on the winter of 2014, and all of its record-breaking frigid weather, it is surprising to find out that many U.S. housing markets experienced price gains by February's end. Perhaps the mostly widely respected survey, the S&P/Case-Shiller composite index, revealed the news on Tuesday, April 29th. The S&P composite index reviews housing market data in 20 of the nation's largest metros.
The information, which is generally calculated on a seasonally adjusted basis, indicated that for February, single-family home prices rose by 0.8 percent. This is viewed quite favorably, considering that the results from a Reuters poll of economists conducted for the same period, predicted an uptick of only 0.7 percent. To temper this development, the chairman of the index committee at S&P Dow Jones Indices, David Blitzer, observed, that even though price gains have continued in many of the nation's housing markets, other real estate statistics have not been as strong. Blitzer also stated, "The recovery in housing starts, now less than one million units at annual rates, is faltering. Moreover, home prices nationally have not made it back to 2005."
Thankfully, the news on the housing front has not been all contradictory or less than positive. A CNNMoney article from April 22nd, spotlighted 7 cities where "home prices are hitting new highs."
Here's a look at those cities:
Dallas, TX
Believe it or not, The Ewings did not buy up all of the available acreage in the "Big D". Inexpensive land and affordable construction costs are two factors cited by CNNMoney that have helped this city's housing market stay afloat. Although Dallas faced hard times after the housing bubble burst, they are quickly inching their way back up. A thriving economy is driving up demand also, which is likely why current home values are at $143,200. That's a huge improvement compared to where they were in 2011: below $127,000!
Houston, TX
Again, affordable land prices have helped Houston bounce back quickly. Combine that with its extremely diverse economy, which is driven by energy, manufacturing, aeronautics, and health care and no wonder its population grew 6.6 percent between 2010 and 2013. It helps to know that Houston is the 4th largest city in the U.S. and second only to the "Big Apple" for the number of Fortune 500 headquarters based there. Current home values stand around $156,100, which is a definite improvement from the housing boom peak price in 2007 of $142,100.
Denver, CO
It's simple: population growth drives up demand, which increases prices. So, it is not surprising that the "Mile-High City" is clocking in with some of the highest home prices in the U.S. Viewed by many young professionals, families, and retirees, as hip and happening, new residents are snapping up available properties at lightning speed. According to the most recent Forbes' annual ranking of the country's fastest growing cities, the Denver metro skipped 9 spots to land at #6 as opposed to 2013's rank of #16. Significant gains in home prices have now boosted the current home value in Denver to $245,200. The local NAR reports that in 2013, home sales leapt by 26 percent.
Pittsburgh, PA
The "City of Bridges" has experienced something of a renaissance in recent years. It could be due to the fact that Americans looking for a city that is heavy on history, culture, education, recreation, and overall livability have finally discovered Pittsburgh. Several noteworthy large firms, including Google, state-of-the-art health care facilities and universities are keeping the city in a such a positive state of economic health that CNNMoney reports that the median family income here has risen by 12 percent since 2008. Current home values are nearing $118,900, scores of neighborhoods have been revitalized, and the future looks bright.
San Antonio, TX
Explosive growth in recent years, rising job opportunities, top-rated schools, still affordable home prices, and great weather, make "River City" appealing to many, including retirees. CNNMoney's post noted that the city's "robust economy is well diversified with jobs in government services, health care, energy and the financial service industries." Of course many likely fall in love with San Antonio and choose to relocate after a stroll down its enchanting River Walk. Zillow home value survey show that the current figure is around $153,700.
San Jose, CA
San Jose is home to some of the country's wealthiest residents, so it's no wonder this Silicon Valley city boasts some of the highest median home prices in the nation. Moreover, strong growth within the hi-tech markets has put home prices here on a steady rise. Zillow analysts reported in April that in the y-o-y comparison for March 2014, home values grew more than 13 percent. The real estate information firm also expects the trend to continue, and predicts that San Jose home values will go up another 5 percent over the next 12 months. Get in now, if you want to avoid paying higher prices next year. The median current home value in San Jose is nearly $759,100.
Austin, TX
Recognized last year as "America's Fastest Growing City," Austin has long held a reputation for being edgy, cool, and forward thinking. This capital city is also home to a number of Fortune 500 companies, including Intel, Google, and Samsung. The fact that Austin has also been named "America's Greenest City," has great schools, excellent recreational amenities, and a legendary music and cultural scene explains why demand has driven home values to $221,300. To put that into perspective, this figure is up from the housing boom peak's home value of $192,600.
Subscribe To Our Newsletter
Sign up with your email address to receive news and updates.