Tips for Making the Most Out of a Small Living Space
June 9, 2014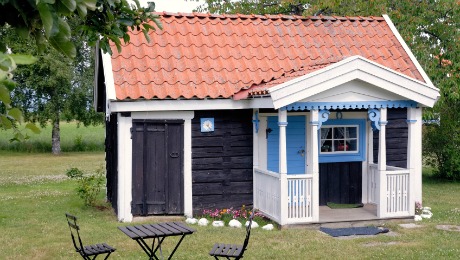 Have you heard the news? When it comes to home size, "Small is in!"
For a variety of reasons, American home buyers are gravitating toward homes that are much more scaled down compared to the designs made popular in the "McMansion" era. Hopeful buyers are looking more closely at how to keep purchase costs down and opting for green features and less square footage to heat and cool. Baby Boomers are also on board and choosing smaller, often one-story properties for their retirement years.
Although folks may be eyeing smaller homes, they still want them to have plenty of storage. For all their faults, McMasions certainly provided plenty of options for storage with walk-in closets, spacious pantries, and multiple-car garages. Trend conscious builders and designers have taken notice and are hard at work creating clever components that will offer the owners of smaller homes ample areas to stow all of their stuff. Speaking of storage, many home builders are taking cues from the crafty cabinetry found in boats and campers and incorporating similar storage choices such as built-in drawers and bins, drop-down tables, and taking advantage of ceiling space.
As the saying goes, "necessity is the mother of invention," so here's a look at a few more ways to make the most from a small living space:
Reduce your belongings
This first step may be the hardest, however, it is vital! Pare down your belongings and get rid of the unnecessary extras-all of them. This may take some time and there will likely be reluctant family members, however, it is essential to start with a mostly clean slate.
Think outside the box
Use vertical and non-traditional spots to keep things out of the way – think under the bed or staircase. Inside kitchen cabinets and the pantry, extend the space with small, inexpensive vertical units, or add a shelf.
Hanging cubbies for closets are a smart way to store shoes, tee shirts, sweaters, and handbags. Over the door clothing hangers and clear pocket shoe pouches (ideal for kids stuff: socks, undies, small toys, crafts) take advantage of empty wall space. See some here.
Use some rooms for more than just one purpose.
For example, a Murphy bed or sleeper sofa in the home office or living room adds a place for overnight guests. A fold-down table or convertible coffee table in the living or family room creates an instant dining spot.
Designate places to keep "grab and go" items neatly put away, but accessible.
For example, things the kids use frequently, like bookbags, lunchboxes, sporting goods, school supplies, and outerwear should be easy to reach, put away, and keep tidy. Adults will need a similar strategy for their often used things, along with keys, phones, laptops, and chargers. Bins, baskets, and double-duty pieces such as storage benches and ottomans are effective.
Go for the illusion of more space
Another strategy for success when living in a small space is to create the illusion of bigger! This can be easily achieved by:
Ysing light, bright paint choices and tricks such as painting the baseboards the same color as the walls which will make them seem taller
Getting rid of heavy window treatments to open sight-lines to the outside.
Scaling down the furnishings by using less and smaller pieces-chunky upholstery, mountains of throw pillows, too many plants and massive lamps make rooms feel less spacious.
Choosing a neutral color scheme, with upholstered furniture in solids as opposed to busy prints, achieves a balanced look without having too much stuff.
Adding interest and pops of color by combining a few carefully chosen pieces of art, lamps, rugs, or throw pillows.
Reflecting the outside in with a strategically placed mirror is another trick for extending a home's interior areas.
Another reason Americans are recognizing the virtues of smaller living spaces has to do with the obvious rewards, such as more time for other activities besides keeping up a house and yard, and in the words of apartmenttherapy.com's editors, "there's the cozy factor."
Other Home Design Posts You Might Enjoy:
Outdoor Design Trends for 2014
Popular New Home Features
Subscribe To Our Newsletter
Sign up with your email address to receive news and updates.