The 10 Best States for Teachers
June 11, 2014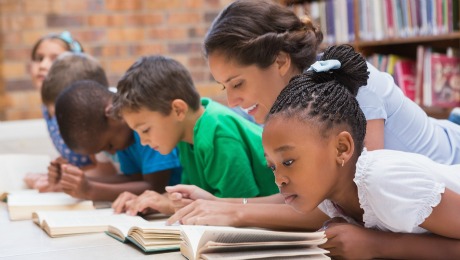 Anyone who has ever been a teacher or had close friends or family in the profession knows that with its many rewards, the job comes with tremendous challenges. Among other things, teachers must deal with long hours, frequent budget cuts, constant performance reviews, standardized test score quotas, and overcrowded classrooms. It has been called one of the most important, yet most difficult jobs out there.
In March, the social justice alliance, known as TakePart, revealed its list of the 10 states where teacher salaries are the highest. The analysts for this survey factored in budgetary considerations by using the 2013 Cost of Living index. The study was done in conjunction with the Bill and Melinda Gates Foundation for the TEACH documentary. If you are a teacher or thinking of becoming one, these 10 states are worth checking out:
Indiana
Thanks to an in-depth, statewide teacher evaluation program that was passed through the Hoosier State's legislature in 2011, a merit-pay system was devised. It recognizes teachers with better performance records and rewards them with higher wages. Although the annual salary was determined to be around $51,456, the states low cost of living put it more closely to $57,000.
Fort Wayne is a great example of what a community can do when it pulls together. Along with a far-reaching effort to improve the city's infrastructure, there have also been major advances such as improved parking downtown, better-maintained roads and city streets, plus the creation of more recreational and entertainment venues. Schools here are known for their low student/teacher ratios and average expenditure of over $5,000 annually per student.
Georgia
Governor Nathan Deal, is aware that even though his state's rate for teacher pay is better than that of other southern states, there has been a significant decrease in the profession's ranks. To entice new teachers as well as court out of state educators, Governor Deal has issued a request for over $545 million to increase state education funding. The jury is still out, while teachers here are pulling in close to $57,000 annually-based on cost of living adjustments.
Hundreds of upscale communities have sprung up throughout the Peach State in the last 20 years. One is Newnan, the epitome of a quaint southern town. Incorporated in 1828, it is rich in Civil War and African American history and a perfect setting for a few U.S. History lessons. Just 30 minutes southwest of Atlanta, Newnan has received accolades for its public schools. Check the reviews out here.
Wisconsin
In the Badger State, the average teacher pay hovers near $55,000, and is adjusted up slightly to around $57,000 with cost of living considerations. This is another state whose governor is leading the charge for a major overhaul in how teachers are paid and granted wage increases. The mindset there is that past collective and aggressive bargaining tactics from teacher unions were unsuccessful. So now, each school district governs benefits, policies, and wages through a unified, state-wide handbook.
Considering a teaching position in WI may cause some to shudder at the prospect of snowy, frigid winters. Remember, there are 3 other seasons and each more spectacular than the last. Charming, quaint areas such as Door County, La Crosse, Madison, Appleton, and Green Bay are definitely worth checking out. Take a look at "Wisconsin's 12 Best Towns," according to Wisconsin Trails.
Nevada
Another state with an easy-going cost of living, Nevada has allowed teacher pay to make a slow, but steady rise over the years. Although it stands around $56,000, one vocal former Superintendent of Public Schools advocates salaries upwards of $200,000 annually for Nevada's highest achieving educators.
Teachers eyeing Nevada for a possible career change should give Reno a look. Lots of new construction, increasing sales prices and rising property appreciation rates, have brought new residents and increased the demand for skilled teaching professionals.
Massachusetts
As home to some of the most well-respected institutions for higher learning in the world, it stands to reason that this state treats its teachers well! As opposed to the other states included so far on this list, the cost of living here is rather high. According to the study, that fact brings down the average yearly teacher pay of $73,129 to a pared down $59,893. However, those willing to work in schools identified as "high-need" can make more.
In some MA cities such as Cambridge, Holyoke, Princeton, and Winthrop, there is a huge demand for those in the fields special education, math, science, and foreign languages. Cambridge, which is just outside of pricier Boston, is a charming university town, full of forward thinking, environmentally conscious young professionals and their families, and by the way-top-rated public schools.
Wyoming
This state has been on a mission to keep its teacher salaries competitive with non-teaching positions, both in and out of Wyoming. It has been successful, and the study revealed that, "teachers' starting salaries in the Equality State are by far the highest in the nation. According to the National Education Association, the average starting salary in 2012–13 for teachers in Wyoming was $43,269." This compares to the average figure of $57,920, brought up a few notches to $59,897, thanks to a very affordable cost of living.
Teachers in Laramie, WY, enjoy the resources available through the University of Wyoming. Known as the Gem City of the Plains, its setting along the Laramie River and foot of the Medicine Bow Mountains provide the prefect backdrop for hands-on science activities and a variety of teachable moments. History teachers are certainly able to make the most of the area's storied cowboy culture and rich Native American past.
Illinois
Those educators with a Master's Degree can look forward to earning an average of $62,262 in the Land of Lincoln. Even K-12 teachers fare well, and earn an average annual income of just over $59,000. Of course the troubles of the Chicago city schools have been well-publicized. However, there are hundreds of outlying towns and small cities that have so much to offer prospective teachers and their families.
For example, Plainsfield is a quick 35 miles from the Windy City, and has a lot going for it, such as exemplary schools, a lively downtown, parks, trails, plus upscale shopping and dining. There are also stunning natural areas such as Lake Renwick and the Dupage River. Have a look at the positive reviews for the town's public schools here.
Ohio
The Buckeye State comes in the third best in the U.S. where teacher pay is concerned. The cost of living adjustment formula brings the average teacher's yearly pay to almost $63,000. Small class sizes are a priority here along with raising the necessary funds for stellar public school education programs. This is achieved through teachers' unions, local taxes, and the very well-organized and vocal education lobby.
Teachers can really appreciate everything that many of the state's cities have going for them-like Cleveland, the fully wired city, has a low cost of living, plentiful jobs, and affordable homes. Other plusses are Lake Erie and its endless recreational opportunities, top-rated medical facilities such as the Cleveland Clinic, the Seidman Cancer Center, Cleveland State, and a lively cultural and music scene. Field trip to the Rock and Roll Hall of fame anyone? Cleveland also ranks on the top-ten-list of U.S. Cities with the Coolest Summer Temps.
Pennsylvania
Teachers looking for work or a change of pace would do well to consider the Keystone State. The survey analysts found that in spite of higher than average pay rates, there is currently a shortage of educators in PA. Many speculate that educators sought other opportunities between 2000 and 2013, when teachers' salaries saw a 4 percent decrease. Compared to the rest of the country, however, the current average of around $63,000 is not too bad.
In fact, many are giving Pittsburgh a second look and the City of Bridges is experiencing positive growth. Diligent residents and city planners have worked hard to improve Pittsburgh's quality of life. New parks, trails, and an aggressive downtown revitalization effort explain why almost 1600 biotechnology, health care, and software companies have set up shop here. And guess what?-with all those new residents come scores of bright-eyed, eager school children! Another plus is that it was ranked #1 by Forbes in 2010 as "America's Most Livable City".
Michigan
Reaching the #! spot on the list, the Great Lakes State's low cost of living rounds an average teacher's yearly income to almost $65,000. Michigan sets an example for the rest of the country because it invests 30 percent of statewide education funds to teacher salaries. In fact, the TakePart team reports that, "Superintendent of Education Mike Flanagan said he would like to see all full-time public school teachers make $100,000 a year." He believes such a move would attract some of the best and brightest educators in the nation.
If Detroit is all that springs to mind when MI is mentioned, a good teacher could tell you there's more to this state than Motor City. Just do a little research on MI's lake regions and communities such as Saginaw Bay, Muskegon, or Bay City. If you are a teacher, chances are you'll be intrigued by the state's European heritage, natural beauty, and terrific home affordability. See Michigan's list of top-ranked schools here.