Most Popular Home Remodeling Jobs
June 17, 2014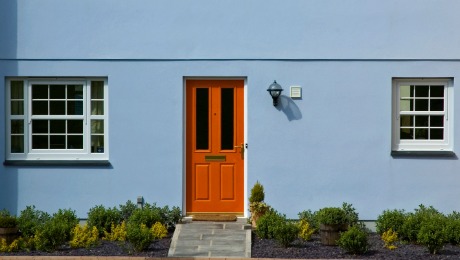 A series of events and trends have made American homeowners keenly aware of how vital it is to keep a property updated and in good repair. After the housing bubble burst, homes that just didn't cut the mustard were the slowest to sell. Also, loads of popular reality TV shows have given viewers real life examples of what today's home buyers want. It's also a fact that certain home improvements pay off big when it's time to sell. But which projects stand to score the biggest return for sellers?
For the sixteenth consecutive year, the folks at Remodeling magazine conducted an in-depth analysis to review how home remodeling jobs stack up in terms of paying for themselves. Their "Cost vs. Value Report" examined 35 common home and garden projects to discover which ones had the best return. For the report, the jobs tackled in 2013 were categorized as either "midrange" or "upscale." Here's a look at what they found:
Replacing doors and windows
In terms of durability and energy efficiency, these building components have come a long way. Among midrange projects, upgrading entry doors to steel proved to offer the best bang for the buck with over 95 percent of the cost being fully recoverable. Homeowners choosing to install new and improved windows benefitted as well. New replacement windows in wood gave a 79.3 percent pay back and vinyl ones recouped 78.7 percent of the cost.
Adding a wooden deck
Who doesn't love kicking back in a hammock or chaise lounge on a Sunday afternoon? Having a spacious deck makes it doable, plus they are also great spots for barbeques and outdoor entertaining. That's why deck additions came in second among the midrange home improvement choices. It's estimated the average job cost was $9,539 which provided a resale value of $8,334, which would put around 87.4 percent of the money spent right back in the homeowner's pocket.
Converting an attic into a bedroom
Who can't use an extra bedroom? The creative use of existing space as opposed to the actual addition of square footage was another way savvy homeowners made cost effective upgrades last year. According to Remodeling magazine, the average gained was 84.3 percent.
Upgrading the garage door
Little things mean a lot and a new garage door can work wonders for amping up curb appeal. Newer models are more stylish, durable, and energy efficient. Remodeling magazine's team estimated the average cost for those upgrades last year was $1,534 with 83.7 percent of that total being recovered.
Remodeling the kitchen (in a minor way)
Many may be surprised that this fell into the midrange group of projects. However, it was for cosmetic changes, to a select combination of things such as new paint, recessed lights, different sink, perhaps a solid surface countertop and one or two appliances-but not the entire kitchen. At any rate, home sellers worth their salt know that kitchens and bathrooms are what sell a house. The survey placed the average kitchen remodel in 2013 at $18,856. It was estimated that 82.7 of the outlay would be recovered in a sale.
The other midrange projects that paid off were vinyl siding replacement, regaining 78.2 at sale time and basement redos, that gave back just over 77 percent of their fix up funds. Following are a few of the upscale renovations homeowners did to increase the resale value of existing homes.
Total Kitchen and/or Bathroom Remodel
For the survey, these two big projects tied and regained the same amount back, which was 63.6 percent. The average cost of an entire kitchen upgrade was estimated to be $109,935 and a new and improved bathroom with plenty of bells and whistles averaged in at about $51,374.
For a complete bathroom addition as opposed to a renovation, the average price was $72,538. Additions appear to have had a return that rang in right around 60 percent.
Adding a composite deck
Using newly developed space age components for deck additions cost last year's homeowner's around $35,158. That type of project equaled $22,881 for resale value, or just over 65 percent.
Replacing the roof
Yes, it's a big job that must never be ignored! Remodeling's analysts revealed the average price for this type of home improvement in 2013 was $34,495. At the time of resale, such a project stood to regain around $21,731 or 63 percent.
The data collected for the survey was gathered with help from the official magazine of the NAR, REALTOR. Over 4500 NAR members responded to the online survey.
It is very interesting to consider how making home improvements to existing properties may boost sales and home prices. According to the NAR, "Existing-home sales reached 5.02 million in 2013, a 9.1 percent increase from 2012."
Also, the organization revealed that in 2013, "Existing homes commanded a median price of $197,100, up 11.5 percent from the 2012 median price of $176,800." It's worth noting that this is the largest jump in home prices since 2005! This information certainly ties in nicely with Remodeling magazine's news that for the second consecutive year, more homeowners recouped more of the money they spent on home improvement projects.
Subscribe To Our Newsletter
Sign up with your email address to receive news and updates.