New Home Sales Rise 6.4 Percent in April
June 23, 2014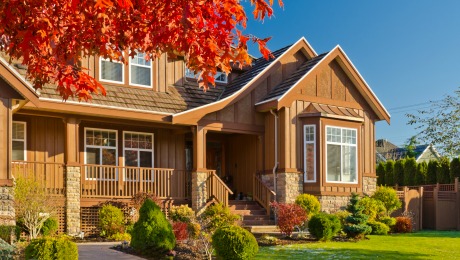 Since the new Federal Reserve Chair, Janet Yellen cited the nation's housing market as a potential risk to the economy, the news of better home sales for April was certainly greeted with relief. The information comes on the heels of an especially brutal winter that saw sluggish sales for Big Box hardware stores and fewer than hoped for construction starts.
The National Association of Home Builders (NAHB) welcomed the upbeat spring findings from HUD and the U.S. Census Bureau. For the record, 433,000 newly built single-family homes were sold all over the U.S. in April. In terms of a seasonally adjusted rate, that brought new home sales up by 6.4 percent – no small feat. Even with the better than expected data, many felt it should have been better. Those in the home construction business still feel hampered by the way business is done following the aftermath of the housing crisis that began in 2008.
The organization's Chief Economist, David Crowe further pointed out that, "In a positive development, builders are adding inventory in anticipation of a further release of pent-up demand."
He went on to say that the nation's home builders have only reached the half-way point on the road to normal market conditions. On a positive note, Crowe reflected that continuing low mortgage rates and still reasonably priced homes are two factors that should result in a slow but steady rise in home sales and construction starts through the end of 2014.
According to the report, the nation's regions fared this way: New home sales rose 47.4 percent in the Midwest, 3.1 percent in the South, remained the same in the West, and new home sales in the Northeast dipped by 26.7 percent.
For the uninitiated, sometimes understanding why this is such good news needs to be explained. When home prices climb, more homeowners who faced possible foreclosure are put in a better situation. They can hopefully sell and at least break even rather than lose thousands on an underwater mortgage, or home that they owe more for than it is worth.
See related blog post, "Negative Equity Rate Falls Below 20 Percent."
Price gains in new home sales also allow hopeful sellers who'd been playing a waiting game to finally move forward and list their properties. The next big plus associated with this scenario is that homeowners will not have such a huge need to refinance their homes. Instead, new buyers will come on the scene and initiate mortgage activity. Folks buying new homes pump up the economy across the board, purchasing everything imaginable for their homes and gardens, plus contracting a variety of construction-specific goods and services, such as landscaping, roofing, painting, plumbing, etc. The trickle-down effect all of this activity has on the economy is why home sales is always such a hot topic.
A Bloomberg story in late May revealed that existing home sales were also up in April. In March, that category saw a 3.4 increase, especially significant since it was the first such gain in nine months. The National Association of Realtors (NAR) reported that in April, the sale of existing properties inched up by another 0.4 percent.
Market watchers are wondering if spring's better mortgage rates, a rosier job outlook and perhaps easier to get credit are the explanations for this change.
HIS Global Insight economist, Patrick Newport of Lexington, MA, greeted the development with this comment:
"The housing market is getting better-going forward, we don't think it's going to be a drag, it's going to be positive for growth."
According to the NAR's findings, existing homes sales rose 5 percent in the Midwest and 0.6 percent in the Northeast. However, it should be noted that, contract signings declined 2.9 percent in the West and 0.6 percent in the South.
Summer 2014 promises to be strong for both new construction and existing home sales. Consider this prediction from the firm Boston Logic:
"Approximately 60 percent of homes bought or sold this year will occur between May and August."
Sounds like all of those hopeful buyers and prospective sellers better get busy!
Subscribe To Our Newsletter
Sign up with your email address to receive news and updates.