How to Sell Your Home Fast
July 1, 2014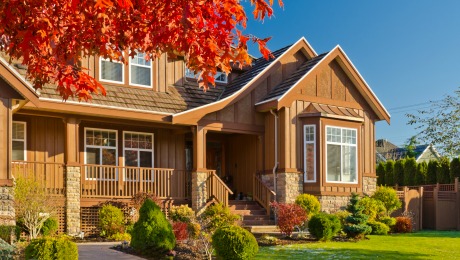 The current pace of the real estate market is pretty swift. Homes are spending less time on the market and buyers are eager to snatch up well-priced homes in good condition. But even when the market is moving quickly, it never hurts to put in a little extra effort to make your home sell faster.
Here are a few tips to help you sell your home fast…
Get your home ready to show…
Getting a home in shape for the market can be time consuming and sometimes costly. Depending on the condition of your home, you may be able to get by with just a good, deep cleaning and a few minor touch-ups. However, if your home hasn't been updated in several years, expect to pay roughly 2% to 3% of the list price on improvements. From fresh paint to new floors to repairs and more, you may need to shell out some cash in order to sell your home quickly.
In addition to sprucing up your home's exterior and interior features, you'll also need to make sure your home is clean. De-clutter as much as you can by packing away items that are non-essential. These include family photos, seldom-used kitchen appliances, off-season clothing, and so on.
…and keep it that way.
It should go without saying that a clean, tidy and un-cluttered home will sell faster than a home that's messy and unorganized. However, a lot of homeowners have trouble maintaining the neat and tidy appearance as time goes on. It can be very tempting to get lazy with your home's appearance, especially if you're already living a busy life with work, kids, school and other day-to-day activities. You may think those dishes can wait until tomorrow, but unless you wake up at the crack of dawn the next morning and finish them up, they're going to sit in your sink all day, along with remnants of last night's meal. Should someone drop by for a viewing that afternoon, the sight (and smell) of an unkempt kitchen will most likely turn potential buyers away. Therefore resist the urge to put off chores.
Price your home competitively
You and your real estate agent should work closely together to develop a reasonable yet competitive price for your home. Together, you and your agent should examine current listings of homes for sale, recently sold listings, and pending sales for homes in your neighborhood. These comparables, or "comps," as your agent may call them, can give you an idea of what homes are selling for in your area as well as what the competition is like.
If you want to sell fast, discuss listing your home below the comps to generate more traffic and hopefully get more offers. However, be open to your agent's suggestions. He or she may advise you to start by listing on the higher end, but lowering the price after a few weeks or a few showings.
Don't be afraid to negotiate
If a fast sale is what you're after, you may have to negotiate. If you're asking $130,000 for your home and someone makes a serious offer for $125,000 you'll need to assess whether you'd rather get it done and sell right away, take more time with a counteroffer, or stand firm, hoping for that extra $5,000. If time is of the essence and you want to sell as fast as possible, you may have to take the $5,000 cut. Just make sure you're not selling your home (or yourself) short. You'll still need to make sure you have enough money to cover things like moving expenses, the down payment on your next home, agent commissions, etc.
Boost that curb appeal!
Curb appeal may not seem like the most important aspect of a home's marketability, but you would be surprised how big a difference it makes. There is a lot to be said about first impressions, so make sure your home leaves a great one when potential buyers come by. Keep your yard well-maintained and free of weeds and overgrowth. Maybe add a fresh coat of paint to your front door and window shutters. Plant some attractive flowers or shrubs, but don't go overboard – remember, less is more. While you're at it, consider pressure washing your home, driveway or front porch. Mildew can be an eyesore and can turn potential buyers off.
There are several other things you can do to boost curb appeal and most of them can be done on a budget. Simple, affordable projects like adding new house numbers or washing the windows take little time and money but make a big difference.
You might also like…
How to Keep Your Home Mold-Free
The Top 10 Things That Sink Your Home's Value
Subscribe To Our Newsletter
Sign up with your email address to receive news and updates.