Popular Kitchen Design Trends for 2014
July 2, 2014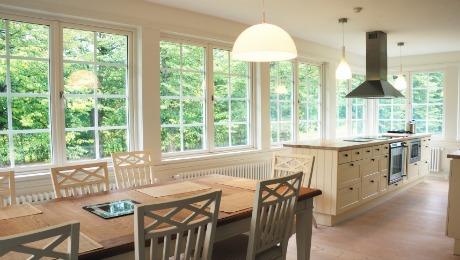 If your home could use a little updating, most real estate pros will tell you that kitchens and baths are the rooms to focus on. Even if you're not planning on selling your home any time soon, keeping the main selling points in good condition is a great way to maintain your home's value.
Back in March, the National Association of Realtors (NAR) posted a blog about some of the hottest kitchen design trends for the year. The results were found through data from the National Kitchen & Bath Association's latest trend report, which surveyed 420 designers. In addition to a rising popularity in contemporary styles and electronic conveniences, the report also found that wood flooring and glass backsplashes are starting to pop up in more kitchens this year.
Contemporary Style
Contemporary style is defined by a "modern" look featuring streamlined shapes, simplistic or minimalistic designs and can sometimes use bold color or geometric patterns.
Of the 420 design professionals surveyed, NAR reports that 62 said they expect contemporary styles to be on the upswing this year and may even overtake the popularity of transitional styles. Transitional style is a combination of traditional and contemporary design that usually incorporates simple, yet sophisticated features.
"While transitional styles are still number one, we see kitchen design trending more contemporary this year with clean, simple lines; less clutter, and little ornamentation," says John Petrie, the 2014 NKBA president.
Need a little visual inspiration? Check out Houzz.com for ideas and pictures of contemporary kitchens here.
Electronic Convenience
The kitchen has long been considered the hub of the household, so it's no surprise that more homeowners are choosing to add stylish and practical electronic elements into the space. Two-thirds of NKBA kitchen designers said they added docking and charging stations in kitchen remodels, including a desk or home office area. Fifty-six percent said they included a flat-screen television.
Southern Living featured a great example of a "mini office" in the kitchen – just enough space for charging electronics, setting up a laptop and organizing mail. Check it out here.
Energy Efficiency
Homeowners are becoming more and more energy-conscious, proving that the "green" movement was more than just a passing fad. Sixty percent of designers surveyed expect a boost in demand for energy-saving appliances this year. Furthermore, 47 percent of designers said water-saving faucets are likely to gain popularity.
Water-wise faucets can be found in just about any home improvement store. Browse a few from The Home Depot here.
Quartz Countertops
The popularity of granite countertops isn't exactly threatened, but quartz has certainly risen through the ranks to become one of the most popular materials to use for countertops in the kicthen. About 70 percent of designers surveyed said they expect to see quartz countertops gain popularity this year while about 40 percent of designers said they believe more homeowners will incorporate countertops made of recycled materials.
See related posts, "Quartz vs. Granite Countertops." and "Most Popular New Home Features."


Other popular kitchen design trends found through the survey include…
Satin nickel finishes (polished chrome is second in popularity)
Granite composite sinks (known for their durability)
Special nooks for pets (feeding stations, litterbox cubbies, doggy faucets, etc.)
According to the survey, these are the features that are losing favor…
Tuscan & Provincial looks
Distressed/glazed finishes
Rustic styles
Subscribe To Our Newsletter
Sign up with your email address to receive news and updates.