Low Cost Ways to Stage Your Home for Sale
July 14, 2014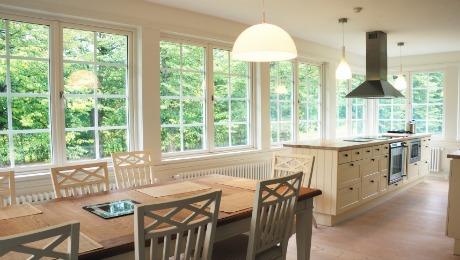 It is difficult to pinpoint how and why the home staging phenomenon became so popular. Perhaps the high number of flooded housing markets following the aftermath of the mortgage crisis is the explanation. With so many properties to choose from, sellers had to make their listings stand out. Enter the professional home stager. Another explanation is that today's home buyers grew up watching scores of home improvement and decorating shows on reality TV. They have very definite ideas about how a home should look. Sellers need to know this generation of house hunters will not settle for second rate.
If you are thinking of selling your home, but really don't have the extra funds to hire a professional home stager, don't worry – you've got this! Before you begin getting your residence show worthy, keep in mind these two tried and true tips: less is always more and in the art of home staging, 90 percent of a home's contents should be removed. If you're thinking that will leave your place a stark, desolate echo chamber, please consider these inexpensive and very effective tricks of the home staging trade:
Learn about curb appeal and then create some
If you think curb appeal is achieved when you blow the driveway or set out a pot of geraniums, think again. You are on the right track, however, creating curb appeal encompasses improving the street view of the entire property. Hopeful home buyers spend hours driving through neighborhoods looking for "the one." Addressing just a few areas, will have your listing screaming, "This is it!" Here's how:
rake/weed/mow/ the yard
trim/prune/divide trees, plants and shrubs
mulch and define beds and natural areas
clean out gutters
wash windows and doors
pressure wash home's exterior
paint where needed or paint front door a bold new shade
remove clutter-toys/sporting goods/extra vehicles/garden tools
invest in a few extras such as colorful pots of blooming annuals, new cushions for outdoor furniture, pretty welcome mat, new front door hardware
See more ideas for what curb appeal is all about from the folks at Better Homes and Gardens when you click on this link: http://www.bhg.com/home-improvement/exteriors/curb-appeal/ways-to-add-curb-appeal/
Make some decisions
Specifically, you will need to evaluate what is going to your next destination. Never pack a box with the idea, "Oh, I'll figure this out when I get there." As soon as you decide that you are selling, begin evaluating what you want to keep. Have containers labeled "Sell", "Donate" and "Toss". This process applies to everything – from the largest piece of furniture to those spare toothbrushes. Keep in mind that this effort will streamline both the moving and staging efforts. If your future home is undetermined, rent a storage unit and start packing! Taking care of this now will also help towards the goal that is the mantra of home stagers everywhere, "Get rid of the clutter."
The nuts and bolts of decluttering
A successfully staged home looks like something from the pages of a decorating magazine or furniture showroom. Each room should make a favorable impression on its own, much like a theater or film set. The goal is give prospective buyers the desire to live here by appealing to their senses. This is achieved by creating a fresh and sparkling clean, uncluttered environment. Here's how:
remove off-season clothing, personal photos, decorative objects, books, sporting equipment, and toys
either move or put those items into storage while the house is being shown
relocate pet beds and litter boxes
remove heavy window treatments and extra rugs
Invest a little sweat equity
After the clutter is gone, it will be easy to give the entire place the cleaning of its life. Bring in friends if necessary and have a "Cleanup House Party" or hire extra help – just get it done! To do a seriously good job, this effort should take several days – we're talking the works – every nook and cranny, from top to bottom. The good news is that cleaning does not cost a fortune. Just gather your supplies, put the pizza place on speed dial, turn on some lively tunes and start scrubbing!
Time for the critical eye
Now that everything is clean, did you notice some spots around the house that need a little TLC? If at all possible take care of minor repairs yourself or figure out an acceptable cosmetic fix.
DIY home staging is definitely more economical, just keep in mind that for your efforts to be entirely successful, a little money may need to be spent. However, when you do the work yourself, you're still saving a bundle! Here is a hit list of easy fixes which no home stager worth their salt would skip:
Make sure there is continuity throughout the home by choosing a neutral color palette. Too many different colors or overly bold choices are intimidating and most hopeful home buyers can not visualize beyond what is in place. So, paint if you need to! Here are some ideas from Benjamin Moore: http://www.benjaminmoore.com
Update your home's hardware and fixtures. Big box hardware stores and second hand businesses, like the ReStore, are the ideal place to find new hinges, knobs, and handles for cabinetry and doors. Updated lighting and sink faucets are also reasonably priced and can work wonders for a tired bathroom or kitchen.
Evaluate the condition of your home's textiles: bedspreads, throw rugs, towels-Are they eye-catching and appealing? If not, then replace them.
Get rid of what is broken, ugly, and outdated. Something as simple as a worn out soap dish can cast an ugly shadow on the room's overall appearance.
All of the above-mentioned tasks should also be carried out in these areas: garages, porches, decks, patios, storage sheds, and attics, because the house hunters will be checking these spaces out as well!
When everything else is taken care of, choose a few inexpensive natural accents to convey a fresh and inviting feeling through colors and scents For example, wildflowers, citrus fruits, apples, or herbs can provide a simple yet pleasing visual enhancement.
Subscribe To Our Newsletter
Sign up with your email address to receive news and updates.