Great Home Security Products for Under $100
July 22, 2014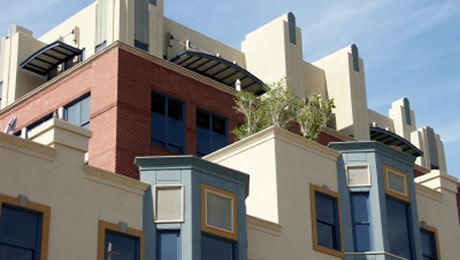 Homeowners spend untold amounts of time and money to create an attractive, comfortable setting in which to live, raise their families, entertain, and escape the stresses of daily life. Many take out additional insurance to cover property damage from natural disasters, pests, floods and fire.
Another concern is how to keep one's home and its contents safe and secure. Built-in home security systems are one solution; monitoring can also be available through your Smartphone.  According to the home improvement website, homeadvisor.com, depending on how elaborate the system, they can range in price from a few hundred dollars to more than a thousand. There is often a separate charge for installation and a monthly fee for systems monitored by a notification center. Although such measures contribute significantly to a homeowner's peace of mind, there are other less expensive solutions.
Security Cameras
Upgrades in technology have made home security cameras a snap to install, plus they are easy on the wallet and can lower homeowners insurance premiums. The Swann ADS-191 Audio Warning Security Camera from Radio Shack gives a homeowner the means to monitor the premises 24/7. The camera's night vision extends up to 50 feet, has a 53-degree viewing angle and has a built-in motion sensor. When the motion sensor is activated, a 50-decibel warning message loudly exclaims, "Warning. You have triggered the alarm system. Your movements are being recorded." If that's not enough, the warning alarm also emits blue and red flashing LEDs. The camera is ideal for monitoring driveways, cars, dark exterior areas near the home, warehouses, hallways, and garages. According to Radio Shack, this model is extremely effective because of its "unique combination of day/night CCTV video surveillance camera and security alert system in one." It can also be connected to a DVR for recording as well as TV and computer monitors. It sells for around $50.
Breaking Glass Detector
Did you know that most all thieves enter homes by breaking door or window glass? Now it is possible to protect your home for about $10 per door or window with Window Bug. It works by using a patented tuning fork that is able to detect when glass is cracked or broken. The manufacturer says normal shock or vibrations do not set it off. It has a protection range of up to 32 square feet, is simple to reset and comes complete with peel and stick mounting.And the cost? Only $10.75 from the Home Security Store.
Digital Peephole Viewer
This is ideal for those who live alone, seniors, condo-dwellers, and anyone who does not like surprises! One top-selling model is the Brinno PHV133012 Digital PeepHole Viewer. Prices vary by supplier, but you can get it for $79.95 from B&H's website. Based on a number of reviews, the system is easy to mount on an exterior door. Because of its brightness enhancement feature, it is possible for a homeowner to check who is on the other side of the door in both light and dark conditions. It takes a photo each time the camera is activated and even has a zoom lens. For the homeowner, the inside view not a tiny, difficult to use peephole, but instead a 3-inch LCD screen.
Another nice thing about this product is that it has several add-on upgrades. There is a knocking sensor and will also trigger the camera and save it for when you are away. Another motion sensor is also available which may be placed a few feet from the front door. When it detects motion, the peephole camera takes a picture.
TV's On-Someone's Home
With products like the FakeTV, would be prowlers are led to believe that folks are home and gathered around an HDTV television. It works by filling a room with bright light that fades, changes, and swells in imitation of typical TV screen action. It has extremely bright, color LEDs which only enhance the illusion. It is a perfect solution for deterring vandals and thieves from vacant properties and for out of town homeowners. Another plus is that it is energy efficient and only consumes the power of a night-light! And the price is right, too: $29.95 on Amazon, where more than 600 reviewers gave it 5 stars.
Simulated Guard Dog
Ok so you're allergic to dog hair, but those would-be burglars don't know that. Imagine their surprise, when they approach your place and hear the ferocious growling and barking of not one, but two vicious attack animals! For those times when you are away and concerned about the security of your home, leave it to Robo Dog and his trusty sidekick to keep intruders outside where they belong. Simply use the CD on the repeat mode. It may also be recorded on an MP3 device and used in another part of the home for creating the effect of 4 guard dogs. For $15, most everyone agrees this product does the job. Here is what one reviewer had to say:
"This is absolutely the best and most authentic dog-warning disc. I have tried many from various sources and this disc really sounds like the real thing. What gives it the realism you want with a watchdog is the two dog sound that gives the impression the dogs are really moving around. The big dog has a growl and bark that should deter any intruder. I even play it while I am home to give me the feeling I have a couple of real dogs around!"
Ready to order yours?
Other posts you might enjoy…