First Time Home Buyers Beginning to Resurface in Some Markets
August 3, 2014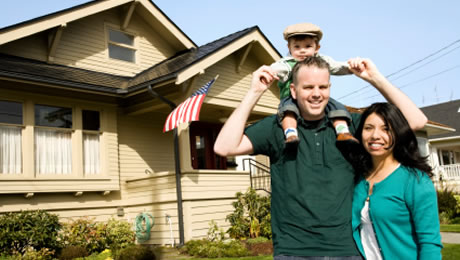 Following the economic crisis, the real estate world was abuzz with reports of how new, tougher lending guidelines were shutting out first time home buyers.
A recent story in the Wall Street Journal reported that in many U.S. markets, first time home buyers are on the move. Economists perked up at the news due to the implications that the reappearance of this group will surely be a shot in the arm for the U.S. housing industry.
Jeffrey Mezger chief executive of KB Home, explained that for the quarter that ended on May 31st, "job growth in Dallas, Denver, Orlando and other markets has led to an increase in first time buyers for KB Home."
Mezger went on to note that in those markets in particular, activity from first time buyers has been on the upswing. He also affirmed that this segment of home buyers is a vital one in terms of ensuring a "broad-based housing recovery." As evidence, KB Home made public the fact that for 2014's first quarter, 52 percent of their customers' mortgage originations were designated for first time home buyers.
So what is really driving this change? Mezger speculates that a little easing up of the mortgage qualification standards has quietly been underway. He cited an excellent example in how accepted FICO scores have changed in the y-o-y view. In 2013, the norm for loans backed by Fannie Mae averaged around 757. Currently, FICO scores are closer to 741. Please note that a lower number means there is a higher credit risk and the increased likelihood that a borrower may default on the loan. Mezger went on to explain that Fannie- and Freddie-approved lenders are feeling more comfortable in allowing the Federal Housing Administration to call the shots regarding which borrowers meet the agency's approval.
A spokesman for one of the world's largest global financial services companies, UBS Securities, has a different take on why activity has increased within the first time home buyer population. David Goldberg, who tracks home building activity at the entry level for UBS, feels the resurgence of first timers is because, "builders are beginning to cater a bit more toward entry-level buyers after realizing they've nearly tapped out the market for more affluent buyers."
Goldberg has also explained that only until recently, the majority of home builders have been slow to focus on the potential of the first time home buyers market. Wealthier, more established clients took precedence. However now, Goldberg believes that American home builders are finding that this is the wave of customers that will help them grow their businesses.
The National Association of Home Builders is certainly eyeing this development and hoping for the best. Economists say that home construction usually comprises around 5.5 percent of the U.S. gross domestic product. It has not hit the mark in the last few years and for 2014's first quarter contributed just 3 percent. Again, these facts and figures go hand in hand with what has unfolded since the mortgage crisis. Fewer first time buyers made up 25 to 28 percent of all new home sale from 2001 through 2007. However, so far this year, first timers have made up only 16 percent.
So of the three markets specifically mentioned, here is a look at a few affordably priced starter homes that would be great for first time home buyers:
Dallas
Immaculate brick ranch in excellent school district and desirable neighborhood: http://www.trulia.com/property/1086525563-13646-Rolling-Hills-Ln-Dallas-TX-75240
Custom home with all of the must-have extras: http://www.trulia.com/property/1059684079-3122-Barnes-Bridge-Rd-Dallas-TX-75228
Denver
Tidy and convenient: http://www.trulia.com/property/1043920226-1560-Spruce-St-Denver-CO-80220
Orlando
All this and Disney World too: http://www.trulia.com/property/3161356879-14350-Lake-Underhill-Rd-Orlando-FL-32828
Ideal place to live, work, play and start a family: http://www.trulia.com/property/24882759-4218-Oakberry-Dr-Orlando-FL-32817
Other posts you might like…
FHA Borrowers Less Likely to Default on Loans if They Receive Counseling
Cash-out Refinancing Gaining Popularity as Homeowners Gain Equity
Subscribe To Our Newsletter
Sign up with your email address to receive news and updates.