Frequently Asked Questions About Mobile Homes
August 21, 2014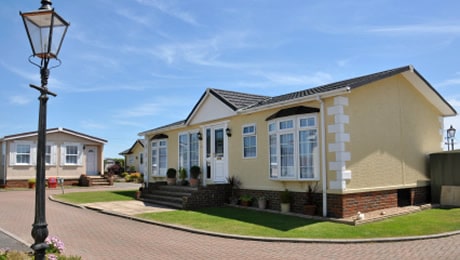 Mobile homes have certainly come a long way in the last 20 years or so. Improved building materials and more efficient layouts have made mobile and manufactured housing a more popular choice for people who want to enjoy the benefits of homeownership without having to pay high real estate prices. But how (and where) do you get a loan for a mobile home?
At eLEND, we're proud to offer an affordable manufactured housing loan option backed by the Federal Housing Administration. These types of loans aren't always easy to find, as many mortgage lenders don't offer them. But at eLEND, we can help qualified borrowers purchase or refinance their mobile home at competitive interest rates.
Have questions about mobile & manufactured home financing? Take a look at the following FAQs and feel free to call us at 800-634-8616 for details and a free rate quote.
1. What is a mobile or manufactured home loan?
Mobile and manufactured housing loans are mortgages that allow a buyer to finance the cost of a mobile/manufactured home. (Mobile home and manufactured home are terms referring to the same thing, and are used interchangeably).
2. What are the interest rates like on a mobile home loan?
Because our mobile home loan is a specialized FHA loan, the interest rates are fairly low. However, because mobile homes are often considered a more risky investment, rates may be slightly higher on a mobile home loan than they would be for a traditional FHA loan. Talk to an eLEND loan officer for details and an exact rate quote.
3. What are the eligibility requirements for a mobile home loan?
There are several requirements that must be met in order for a mortgage applicant to be approved for a mobile home loan. Below are some of the most important criteria, but your loan officer may have other requirements depending on the situation.
The home must be a minimum of 400 square feet.
The home must have been built after June 15, 1976, and in conformance with the Federal Manufactured Home Construction and Safety Standards.
The loan must also cover the land that the manufactured home sits on.
The home must be on a permanent foundation, and cannot be located in a trailer park.
The home cannot be located in a flood zone.
The borrower's credit score must be a minimum of 620 FICO.
4. Do these loans cover all sizes of manufactured homes?
eLEND offers financing possibilities for single-wide, double-wide, pre-fabricated and modular homes.
5. What's the difference between manufactured and modular housing?
Like manufactured homes, modular homes are pre-fabricated in a factory or other off-site facility. However, unlike mobile homes, modular homes must meet the same local building codes as stick built homes (homes that are constructed on site). Modular homes also generally qualify for the same types of financing programs as stick-built homes, whereas mobile homes need to have their own type of financing.
Modular homes also generally provide more options for design and layout. Many buyers are suprised to see just how many different styles of architecture they can choose from when selecting a modular home. Modular homes also generally provide more options for floorplans and upgrades.
6. Where can I request more information on mobile home financing?
Simply give us a call at 800-634-8616 or submit your infomration online through our "Get My Rate" form on this page. You can also ask questions through our Live Chat window. No matter how you reach out, you'll be connected to a licensed mortgage professional who can help you understand your options and provide you with a free rate quote.