Home Price Gains Slowing Down in Most Cities
September 10, 2014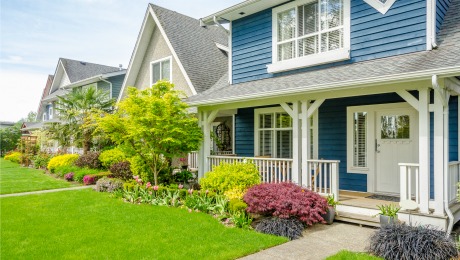 America's sluggish home prices have been a hot topic as the summer of 2014 comes to a close. The much-anticipated S&P/Case Shiller report for the second quarter showed a definite cool down in most major markets.
In a Reuters poll that was conducted prior to the news from the S&P/Case Shiller report, economists predicted that single-family home prices would be flat. Case Shiller's composite index of 20 major U.S. metros revealed that June home prices experienced a 0.2 percent drop on a seasonally adjusted scale. Prices that were non-seasonally adjusted went up by 1.0 percent in the same 20 cities.
The chairman of the index committee at S&P Dow Jones Indices, David Blitzer, explained that the nation's home prices have been slowly going down since last fall. He reflected on the recent news by noting that this is the first time since February 2008 that all of the survey cities showed lower annual rates from month to month. Blitzer also stated that, "Other housing indicators – starts, existing home sales and builders' sentiments, are positive. Taken together, these point to a more normal housing sector."
Following the report, the National Association of Realtors added their latest findings. According to the NAR, among 173 metro areas, the median price of an existing single-family home went up 71 percent in the second quarter. This was down from 74 percent measured in the first quarter. It was also revealed that overall price growth in the single-family market was down in 107 of the 173 markets in the analysis.
Once depleted property inventories have also slowly begun to build back up, which has lessened the demand. This has caused price appreciation to moderate as well. In January of 2013, the country saw a 13-year low in existing single-family home vacancies, with only around 1.8 million units available. From June 2013 through this past June, the inventory of existing units on the market rose to 2.3 million.
Economists and housing industry professionals are not reacting to the news of sluggish home prices with much anxiety. Most agree that this slackening off on prices is a sign that the nation's housing market has reached a more steady or sustainable pace. Paul Diggle, who is a U.S. property economist for Capital Economics Ltd. In London, commented, "It's not something to worry about – it's something to be welcomed. It means price gains are at a more sustainable footing that is more in line with income growth."
Why this is not bad news is what NYTimes contributor, Neil Irwin discussed in a recent column. He agrees with what others have said and affirms that the "boom/bust" cycle that the nation's housing market has seen is not sustainable. Irwin believes that sensible home prices should be dictated by local economies and what buyers can really afford.
He cited the six cities that saw the biggest drops in home prices: Atlanta, Boston, Chicago, Cleveland, Detroit and Minneapolis. He went on to note that in contrast to job growth, cost of living, and construction costs, home prices have been greatly influenced by changes in the mortgage market and the "gradual recovery in prices."
Irwin questions why these forces are determining home prices when they should be set based on the state of the local economy. Information from Trulia's chief economist, Jed Kolko, confirms this mindset. A recent Trulia study showed that, "home price increases are now more closely correlated with job growth than with those rebound effects that dominated an earlier phase of the housing recovery."
Irwin further explains that even though inflated home prices in numerous areas allowed underwater homeowners to get out of debt, things just could not continue at that pace because most hopeful buyers would be priced out of the market.
To sum up this latest news, it is perhaps best to provide a quote from Irwin's NYTimes column The Upshot, in full:
"Home prices can't rise faster than incomes forever. So if the trend of the last few months continues, and the rate of price increases continues to come down to earth, it will be a sign that maybe, just maybe, we've put this long, horrible boom-bust cycle behind us."
Subscribe To Our Newsletter
Sign up with your email address to receive news and updates.