Selling a Home in the Fall
September 14, 2014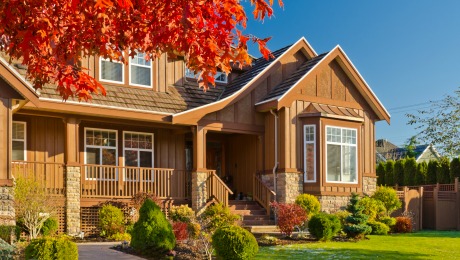 Believe it or not, the time of year in which you choose to list your home will determine how you should present it and the types of buyers you're likely to encounter. For anyone considering a fall listing, here are a few tips and tricks for effectively staging your property.
Fall Curb Appeal
The leaves may be falling, but your job will be to have your yard and home's exterior in ship shape condition. Mow, rake, weed, and mulch to make your place look fresh and tidy. In many parts of the country, either hot, wet, humid weather or extreme temperatures can leave shrubbery, natural areas, and trees looking spent. Freshen them up for instant curb appeal! This may entail pruning trees and shrubs, lots of weeding, dividing perennials and replacing dried up annuals.
Make sure that your home's exterior is looking its best. Either pressure wash it or consider painting or staining for maximum bang. Finally, add a few pops of fall color with cheery pansies, chrysanthemums, and of course a few perky bright orange pumpkins!
If your home has an inviting deck, patio or porch, set the stage with a few seasonal touches-a pretty fall pillow, a new outdoor tablecloth, or chunky throw. Show hopeful buyers the year round potential these spaces have!
Now, let's consider how to amp up the home's interior spaces…
Paint
It is a tired thing to say perhaps, but here it is: "Nothing freshens up a home like a new paint job." It's so true! For a fall listing, look around your home and see which areas would benefit from a few coats of a warm, neutral paint choice. How do Caramel, Taffy, Cinnamon Frost, or Vanilla Pumpkin sound? Yummy, right?
Lighting
As the days grow shorter, it will be necessary to let in as much natural light as possible. Pay attention to how the sunlight changes throughout the day and adjust your window treatments accordingly. There is nothing more hypnotic than the subtle play of light in the right setting on a brilliant, fall day.
Because the days are growing shorter, make sure that each room is well lit so prospective buyers don't feel as if they are in a dungeon or at old Aunt Martha's creepy place!
Fall Focal Point
Choose one and make it work. For the fall, the kitchen is a natural choice. It would be quite easy to create an enticing atmosphere with the scents of cinnamon, warm spiced cider, molasses cookies, or a freshly baked apple pie. Set the table with homespun looking linens and a fall centerpiece.
Another natural fall focal point is the fireplace. If you have one, make sure it is clean and free of smoky odors. For cool fall weather, light a fire or turn on those gas logs. If the weather is mild or you have a non-working fireplace, consider a display of tiered scented candles and baskets of apples, gourds, or tiny pumpkins on the hearth.
Create Coziness
Remember that the goal of staging a home is enticement – you want your prospective buyers to visualize themselves in your home. In the fall, cooler weather and shorter days make us want to settle in and get cozy. With that in mind, make sure there are several spots around your place that will make folks want to curl up and settle in. Consider adding sumptuous throws, luxurious linens, and plush bath towels to the mix.
After the curb appeal and home staging efforts are complete, it's time to focus on just who is the most likely to view your listing. On home improvement guru, Bob Vila's website, there is a wonderful article about how there are different buyers for each season. For example, young families with children seem to be out in full force during the spring and summer. Their goal is to find a new home while the kids are out of school.
According to the article, when the fall rolls around, house hunters are made up of the Millennials, those born between the early 1980s through the 1990s and empty-nesters. Here are a few tips to get their attention:
Millennials:
They want amenities, low-maintenance, and of course problem-free wireless Internet.
Because they may be a little strapped for cash, give them a bit more time for loan approval. It may also help to leave a few brochures around that provide details about FHA loans-many of these prospective first time buyers may be unaware of alternatives to conventional financing.
If their parents accompany them, be sure to engage them as well. Unlike most younger house hunters, they will appreciate certain aspects of your home, such as quality construction features, EnergyStar appliances, and the neighborhood's selling points, that the younger buyers may not realize.
Empty-Nesters:
They want plenty of amenities as well and particularly like the ability to walk or bike to recreational, shopping and dining venues.
Emphasize the multi-purpose abilities some of your home's spaces could offer, such as a workshop, studio, workout room, or nursery for any future grand children.
Present your home's upscale upgrades – they will appreciate them and now that they have the "bulls in a china shop" kids out of the house, they can enjoy the finer things as well!
Subscribe To Our Newsletter
Sign up with your email address to receive news and updates.