eLEND Joins Forces with Morris Habitat for Humanity on Hazel Street Project
September 19, 2014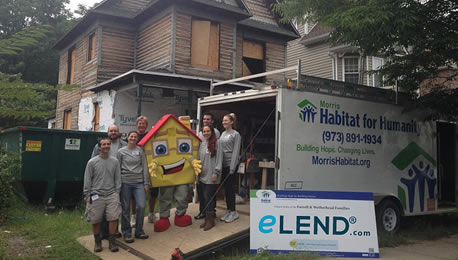 eLEND was proud to join forces with Morris Habitat for Humanity to complete a home rehabilitation project this month.
The home, located at 29 Hazel Street in Morristown, NJ, came from an anonymous donor who previously donated a nearby property at 27 Hazel Street to the cause. The rehab work at 29 Hazel Street included a renovation of the building to create a 2-unit duplex with a 1-bedroom unit downstairs and a 2-bedroom unit upstairs. Both homes were ENERGY STAR certified and will be sold to qualifying low-income families.
"Giving back to the community is something we're passionate about," says Corey Dubnoff, President at eLEND. "Helping build communities makes an impact, both socially and economically, but the value of helping someone have a safe place to call home is immeasurable."
The project at 29 Hazel Street is the latest of several charitable housing projects eLEND has been involved in, showing continued partnership with and commitment to the Habitat for Humanity mission, which Dubnoff says closely reflects the mission and values of eLEND.
"At eLEND, we're committed to working hard for our clients and helping them achieve homeownership," says Dubnoff. "Working with Habitat for Humanity complements our mission perfectly and we couldn't be more proud to join such a worthy cause."
Subscribe To Our Newsletter
Sign up with your email address to receive news and updates.