Report Shows Million Dollar Homes are Not as Big as They Used to Be
September 20, 2014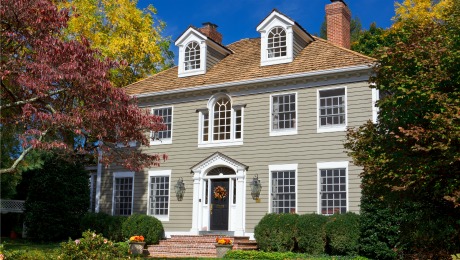 The term "Million-Dollar Listing" immediately brings to mind images of massive mansions with elegant, expansive floor plans, opulent interiors, and luxurious landscaping. Of course homes with such hefty price tags are expected to include plenty of high-end extras, such as swimming pools, home spas, gourmet kitchens-indoors and out, wireless capabilities, hi-tech energy-saving components, plus built-in, breathtaking views.
Although it's true that a million bucks can still buy a showstopper of a home, it likely just won't have as much square footage as it would have had around 7 years ago. Leave it to those creative analysts at Zillow to have figured that one out! Their calculations were based on comparative data on homes valued between $950,000 and $1,050,000 and their median square footage. The information was gathered from national home sales listings published from 2007 though the present. 2007 is considered the year that the U.S. housing bubble was at its maximum peak.
According to Zillow's analytics team, home values are down more than 11 percent from where they stood in 2007. However, today's buyers are paying much more for smaller homes. In fact, this trend is so prevalent, that it is playing out in 30 of the nation's 50 largest metro markets. The Zillow study revealed that in 2007, a typical million-dollar home was around 2,730 square feet. Today, a similar property is almost 4 percent smaller at the average size of 2,629 square feet.
It goes without saying that a prospective homebuyer who has a cool million to invest will do considerably better in some areas than others. Case in point from Zillow's analysts, "In San Jose, a million bucks gets you 1,791 square feet. Compare that to Indianapolis, where $1 million affords you a whopping 6,308-square-foot home." As for the prevalence of luxury homes throughout the country, Zillow notes that only 2.4 percent of all homes in the U.S. are valued at one million or more.
Before examining where in the U.S. home buyers in the market for a million dollar property will do the best, in terms of home size, let's first look at why home prices may be rising. The following information was taken from the Engineering News-Record or ENR, which publishes periodic information on the Construction Cost Index and Building Cost index. Their data is frequently used to set prices within the country's construction industry.
Figures that were collected and compared for a y-o-y look on September 5th showed that building costs were up by 2.3%, skilled labor costs rose by 3.1% and wage standards increased by 3.1%.
At this year's conference, Emerging Trends in Real Estate-2014, other factors that may be fueling the "less home for more money" trend were outlined as:
Buyers want smaller homes with more extras and upscale components, such as energy-efficient and environmentally sustainable features. Because such items are not yet in the mainstream, they are more expensive.
Today's buyers are made up largely of Generation Y or Millennials-those born between the late 1980s through 1995. Turns out, roughly 40 percent of them prefer to live in a mid-size to large city-where property values and construction costs are higher.
Land prices are also on the rise.
Geographically, among the largest metros to lose the most square footage, Providence, RI lost the most with million dollar homes shrinking by 20.7 percent. New Orleans was next, with an 18.7 percent decrease followed by San Francisco, where luxury listings were smaller by 13.6 percent.
On the flipside, a million dollars can still provide enough purchase power for sizable McMansions in several areas, including these top 5 cities:
Indianapolis, IN-6,308 sq.ft.
Memphis, TN-6,069 sq. ft.
Cleveland, OH-5,225 sq. ft.
Nashville, TN-5,123 sq. ft.

Raleigh, NC-4,922 sq. ft.
Among the 50 largest metros analyzed by Zillow, million-dollar homes lost the most space in Providence, RI (-20.7 percent), New Orleans (-18.7 percent) and San Francisco (-13.6 percent). The median size of million-dollar homes rose the most in Las Vegas (18.3 percent), Orlando (16.9 percent) and Fresno, CA (14 percent).
For a look at the entire regional breakdown as determined by Zillow's analysts, use this link to see lists and a heat map.
To compare how much house $1 million will get you in 10 of the nation's largest and most popular metros, click on this link: What a Million Dollar Home Looks Like in 10 Areas (via MSN Real Estate).
If you are interested in buying a higher end property, eLEND is here to help. We have a great selection of fixed rate and adjustable rate jumbo mortgage programs for loan amounts exceeding an area's conforming loan limits. Give one of our mortgage professionals a call today for a free rate quote and home loan consultation (800) 634-8616.
Subscribe To Our Newsletter
Sign up with your email address to receive news and updates.