Builder Confidence Rises in August
September 29, 2014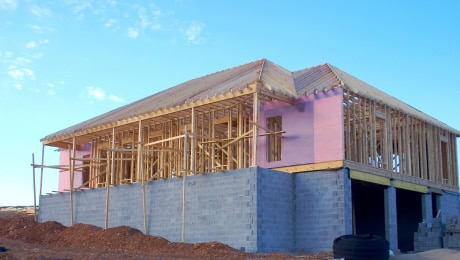 Survey results released in August from the National Association of Home Builders /Wells Fargo Housing Market Index (HMI) show that builder confidence is up for the third consecutive month. Currently, it is at its highest level since January. A number of factors are attributed to this positive trend, including, continuing low mortgage rates, improving employment figures, and the demand for more affordable single-family properties.
The level of builder confidence actually increased by two points and stands at 55. In the scope of the monthly survey, which has been ongoing for the last 30 years, home builders are asked to gauge their opinions regarding single-family home sales and sales expectations throughout the next 6 months as good, fair, or poor. Another item scored is prospective buyer traffic. A score of 50 reflects the belief held by builders that conditions are good. Bear in mind that the score reflects the average of all of the regions surveyed.
The NAHB's Chairman Kevin Kelly, who is also a home builder from Wilmington, Delaware, explained that builders are feeling good about the future because of a measurable increase in the number of new hopeful buyers. In an NAHB press release, he added, "Builders still face a number of challenges, including tight credit conditions for borrowers and shortages of finished lots and labor."
Among the three HMI topics queried: opinions on existing home sales, future sales, and the presence of buyer traffic, all three were up in August. The index that measures the current state of affairs regarding home sales rose to 58. The confidence level among home builders when asked about future sales rose to a very positive 65. Finally, the index that examines buyer traffic went up a full 3 points to 42.
See related post: Builder Confidence Hits Highest Level Since November 2005

The news was somewhat unexpected considering that U.S. home sales were a bit sluggish during the usually busy months of spring and summer. However, since home builders are in direct contact with prospective buyers, it's definitely a "where there's smoke there's fire" situation.
The increasing demand for single-family homes is often labeled as "pent-up" or "unleashed." This has to do with the high number of markets across the country that were flooded with distressed properties in the years following the housing bust. The chief economist for the NAHB, David Crowe, explained, "Factors contributing to this rise include sustained job growth, historically low mortgage rates and affordable home prices, which are helping to unleash pent-up demand."
The NAHB reports that in August, all four regions of the U.S. experienced a gain in its HMI or builder confidence score. The Midwest reported a seven-point increase to 55. In the West the score jumped 4 points to hit 56. The Northeast region posted a 2-point gain to 38 and the South was up by one point to 52.
Subscribe To Our Newsletter
Sign up with your email address to receive news and updates.