Fall Garden Ideas
September 29, 2014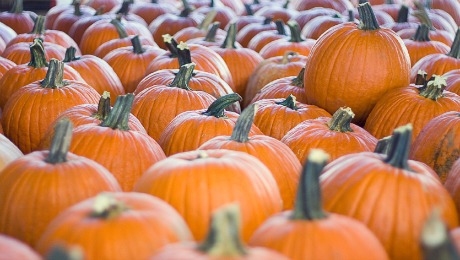 The fall is one of the toughest times of year to maintain a home's yard and garden areas. In places where temperatures begin to quickly drop after Labor Day, it can be a chore to keep everything fresh and appealing. Leaves begin falling, lawns go dormant and summertime blooms quickly fade away. Even in regions where autumn arrives slowly and gently, weeds and encroaching grass may have overtaken beds – plus natural areas, untidy perennials and shrubs will likely need attention.
Of course, once the transition from summer to fall takes place, there are all sorts of interesting ways to liven up the outdoors, including fall decorations and pops of color brought to you by fall annuals and pumpkins of all shapes and sizes! Here are a few ideas:
Fall is for planting
If you have wanted to improve your landscape by introducing new trees, shrubs and plants to the mix, now's the time to get busy. Fall is generally a good time to plant fruit trees, rose bushes and even some cold-hearty veggies like lettuce, cabbage, carrots, squash and pumpkins. Before bringing home a truckload of goodies from the garden center, do a little research. Discuss the best options for you by contacting the Agricultural Extension Service and consider which cold hardiness zone you are in. Doing so should lead you to native choices and prevent you from making expensive mistakes by purchasing things that are almost impossible to take care of. Read about gardening zones here: http://www.burpee.com/gardening/content/gygg/growing-zone-information/growingzoneinfo.html
Focus on the big picture
Rather than view your home's green spaces as individual spots that stand on their own, think of allowing each area of the yard to flow into the next. This will help create an interesting and inviting haven. Work on combining textures, colors and heights that will add depth and layers to your landscape. For example, on the edge of the property, plant the tallest trees and shrubs. For a lush backdrop, stagger varying heights of plants, from the highest to lowest. The shorter ones will migrate towards the open areas and frame the perimeter of the yard. Use a mix of deciduous and evergreen varieties. Next, blend plants that have different growing characteristics, such as reaching, trailing, spreading, and mounding. Making the extra effort now will pay off and only improve your yard and garden spaces as the landscaping matures.
Contemplate ground covers
With easy to grow, drought tolerate and shade loving ground covers, it's no wonder they have become a very popular solution to that frequent gardener's dilemma, "What should I plant there?" However, before planting any ground cover, do a little research. In some parts of the country, some varieties are regarded as invasive pests. This is an excellent topic to discus with a local Master Gardener or Agricultural Extension Agent. In the meantime, see if there are any that you like with this link to a BHG article on ground covers which includes the zones they are best-suited for: http://www.bhg.com/gardening/flowers/perennials/easy-ground-covers/
Add interest
This suggestion is meant to go beyond harvest, Halloween, or Thanksgiving ideas and focus more on things that have year round staying power. The objective is to establish one or more (but not too many) focal points in and around your yard and garden. For example, a low, rustic wooden fence along the front or side of a property breaks up sight lines and adds a little country charm. A shady corner goes from boring to enticing with the addition of an arbor, gazebo or small bird sanctuary, achieved with a birdbath, feeders and a stone bench. Even something as insignificant sounding as a retaining wall works wonders as an instant place to display potted plants or situate a whimsical sculpture. If you have stone or bricks left over from another installation, just try stacking them between two trees and viola! You've added interest with the implication of an architectural relic from long ago!
Other simple ways to add interest to the outside are with water gardens, fountains, and reflecting pools. Metal and glass items such as gazing balls, iron gates, and sculptures lend an air of artistic permanence. Beautiful stone walkways offset with lovely glazed pots of colorful fall blooms are another surefire way to add interest.
Get cozy
One reason that fall is such a favorite time of year for so many is its pleasant weather. Get your porch, deck, patio or backyard ready to enjoy crisp, clear mornings, and pleasantly cool evenings. For seating areas, take away all of the summery stuff and replace it with a few nods to autumn in warm and welcoming fall shades of rich green and gold, cheery orange, and soothing cream. That's right – change out pillows, cushions, tablecloths, throws, candles, potted plants, and Welcome mats to give the months of fall the respect they deserve. The bonus is that you will have wonderful places to gather for cozy fall activities, like sipping cider and gazing at the harvest moon.
More Gardening Related Posts:
Little-Known Spring Gardening Tips
Subscribe To Our Newsletter
Sign up with your email address to receive news and updates.