School Data Important to Young Home Buyers
September 30, 2014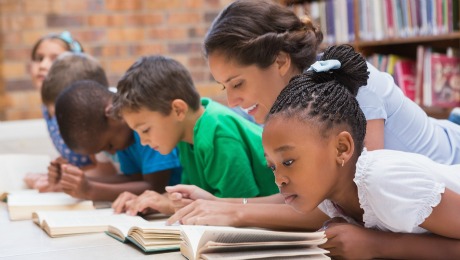 The importance of location, when it comes to buying a home is a multi-faceted concept for sure. As individuals are poised to commit to what will likely be the largest single investment of their lives, the consideration of a home's location is paramount. Choosing a property that is in a safe, convenient, community-minded neighborhood is the idea. Factors such as the proximity to goods, services, employment, mass transit, medical, cultural and recreational options are all examined. Comparisons are also made in regard to property and resale values.
Of course the stage of life that a hopeful buyer is in will also dictate their preferences. That is why for most home buyers, school ratings are a huge component in the decision making process.
The recently published survey from the National Association of Realtors (NAR), "2014 Home Buyer and Seller Generational Trends," revealed that the majority of today's buyers are comprised of Millennials. That is the generation born between 1980 and 1995. Among last year's home buyers, 31 percent were age 33 and younger. The NAR's analysts also discovered that 66 percent of all home buyers last year were married couples. In the Millennial's group of home buyers, 63 percent were married. The next group, those ranging in age from 34 to 48, dominated single-family home purchases last year, and made 72 percent of them. To further validate this development, a recent U.S. Census report states, "Sixty-three percent of all families with children are made up of married couples."
Since these two groups also represent the ages in which most married couples will choose to start families, having access to quality public education is closely tied to their "location" equation. Another research tool confirms that the presence of top-rated, public local schools is of tremendous significance to today's majority of young homebuyers. The website, realtor.com, includes a search-by-school feature on its listings pages.
As summer came to a close, realtor.com's site analysts noticed quite a bit of activity within certain school districts. Again, that activity was attributed to the Millennials. Realtor.com reports that from their own investigation, it was found that 52 percent of Gen Y members say that, "school districts are a deal breaker in their home search, compared with 31 percent of all buyers."
Other driving forces that lead folks to house hunt in some areas but not others, are home affordability and cost of living, paired with employment figures and job market growth. The top 10 cities that were searched on realtor.com were all situated in suburban communities that are close to large metro areas.
Jonathan Smoke, who is realtor.com's chief economist, explains, "Local schools are clearly more important to specific population segments – such as today's millennials, who either have or are planning to have children. High-ranking schools can have a positive impact on home values over time as new families pay a premium for access to better schools."
Other heavily used real estate search sites such as Trulia and Zillow also include details on neighborhood schools. However, the realtor.com search-by-school choice incorporates data from the GreatSchools website. Each time a property is viewed, there is also the option to access details on nearby schools, such as, parent ratings, student to teacher ratio, test scores and GreatSchools ratings. House hunters are also able to see the assigned school district boundaries for each listing they are considering. It is also possible to flip-flop the property search by first choosing the school district to see how many listings there are. Because so many young buyers rely on mobile apps to guide them on their search, realtor.com has one that uses GPS for tracking down schools and properties for sale in the chosen areas.
Are you curious about the top 10 most searched school districts in the country? Here they are:
Bethel, NC
Gadsen, AL
Agoura, CA
Kensington, MD
Greenwood Village, CO
Greenacres, FL
Watauga,TX
La Crescent, MN
North Hollywood, CA
Fairburn, GA
To obtain links for listings from these areas that are on realtor.com please use this link: http://www.realtor.com/news/young-home-buyers-look-to-suburbs-for-good-schools-realtor-com-data-shows/
Like this post? Here are a few more related topics you might find interesting…
MIllenials Less Likely to Default on Mortgages than Any Other Age Group
Popular New Home Features
Subscribe To Our Newsletter
Sign up with your email address to receive news and updates.