America's First Mall Transformed into Micro Housing
October 11, 2014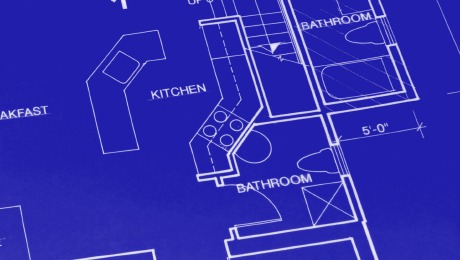 And you thought shopping malls were a 20th century invention…
It turns out that the nation's first enclosed shopping center predates the Civil War! Originally known as the Westminster Arcade, it was built in 1828 in Providence, Rhode Island. The impressive structure boasts a ground level atrium, massive square footage, imposing granite steps, skylights, and classic, Greek Revival columns on each end. After its heyday, the Arcade had a series of ups and downs, including almost being demolished in 1944. Although it was declared a National Historic Landmark in 1976, it sadly fell into a state of disrepair and was deemed, "economically obsolete." It was renovated and reopened in 1980, only to close again, nearly 30 years later in the wake of the economic downturn of 2008.
A new purpose
Located in downtown Providence, on the corner of Westminster and Weybosset Streets, it is a true Ocean State icon whose timeless potential has been given a new life. In 2012, Evan Granoff, who is a developer and owner of the Arcade, decided to convert much of the former retail space into micro-lofts. The news of its redesign and recent grand opening has Providence residents breathing a collective sigh of relief.
The conversion designates 17 spaces on the ground floor for retail shops and restaurants. The retail businesses are enclosed by bay windows, which prevents sound from disturbing upstairs the residents. The second and third floors feature 38 micro-lofts, which are becoming an in-demand residential choice, nationwide. Following the lead from similar developments in cities such as New York, San Francisco, and Chicago, Granoff reflected, "I saw the opportunity for all these people who are graduating and looking for a place to live that's affordable." His speculation paid off, since all of the spots are filled and there is a lengthy waiting list for future vacancies.
What defines "micro?"
Some may cringe at the thought of living in such a tiny place, since the micro-lofts range between 225 and 300 square feet. However, with rent starting at an affordable $550 a month, many view the opportunity as the chance of a lifetime. The micro-lofts have loads of innovative features and even built-in furniture to maximize their diminutive square footage. Each unit includes a bedroom, kitchen, bathroom, and storage areas. Micro-lofts on the second floor have the added bonus of guest accommodations in the form of a twin Murphy bed. There are also eight larger apartments, a game room, storage spaces, and laundry facilities.
See related post, "Is Micro Housing Gaining Popularity?"
The fact that they are in the center of historic downtown Providence, which is also known as the "Creative Capital," is a huge draw. Residents are just minutes from a variety of arts and entertainment venues plus scores of shopping and dining options. The Arcade is also close to seven colleges and universities including Brown University and the Rhode Island School of Design.
How it was done
It took $7 million and quite a bit of careful planning to transform the Westminster Arcade to its current incarnation. The firm, Northeast Collaborative Architects assumed the challenge of bringing the old structure into the new millennium. One of the lead architects, J. Michael Abbott explained that the renovation was not exactly a simple matter of updating the building.
"They just laid down some flat rocks and started building on top of those," Abbott said. "That was the foundation – the building has settled over time and we call that 'character'."
The architects and builders had to pull out all the stops in order to restore and update the building without destroying its historic charm. Walls had to be straightened and custom doors and windows had to be built to accommodate the uneven openings. Although they were well-worn, the almost 200-year old floors and unique iron balustrades were left alone.
Check out photos of the new and improved Westminster Arcade by clicking on this link: http://curbed.com/archives/2014/08/29/americas-first-shopping-mall-is-now-stuffed-with-micro-homes.php
Subscribe To Our Newsletter
Sign up with your email address to receive news and updates.