Builder Confidence Hits Highest Level Since November 2005
October 25, 2014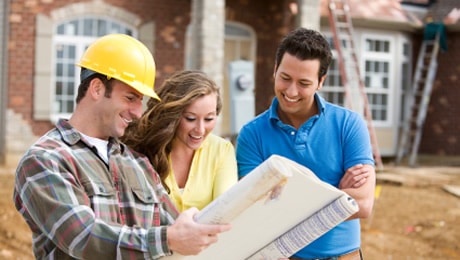 In spite of the recent ups and downs on Wall Street, America's housing industry once again has conclusive evidence that it's back on track! In a press release issued by the National Association of Home Builders in September, it was revealed that builder confidence was positive for the fourth consecutive month.
In fact, based on the recent data collected and analyzed in order to determine the NAHB/Wells Fargo Housing Market Index, builder confidence is up by a solid four points for a score of 59. This is very good news considering that it is the highest score since November 2005!
In the monthly survey, which has been ongoing for the last 30 years, home builders are asked to gauge their opinions regarding single-family home sales and sales expectations throughout the next 6 months as good, fair, or poor. The third component tabulates opinions regarding prospective buyer traffic. The three components are then averaged for the total score. A score of 50 reflects the belief held by builders that conditions are good, so a score of 59 is exceptional.
See related post, "August New Home Sales Reach Highest Level Since 2008."
The NAHB's chairman, Kevin Kelly, responded by saying, "Since early summer, builders in many markets across the nation have been reporting that buyer interest and traffic have picked up, which is a positive sign that the housing market is moving in the right direction." Kelly, who is a home builder and developer based in Wilmington, DE, went on to explain that a more solid job market is helping increase the demand for new single-family homes. However, he also made the observation that in spite of better conditions, there is still not much activity from first-time home buyers.
David Crowe, who is the NAHB's chief economist, noted that the continuing tighter credit requirements for borrowers plus the rising cost of land, labor and materials plus persistently tight credit conditions for consumers, are hampering progress. He stated that these conditions are a major obstacle in preventing the U.S. housing market from making a full-blown recovery.
Again, the HMI measures three components in all: current sales, prospective new buyers, and expected future sales. For the September report, the indices evaluating current sales conditions and traffic of prospective buyers each increased by five points to 63 and 47, respectively. The index measuring expectations for future sales increased two points to 67.
In seeing where things are region by region, builder confidence rose across each one in September. The Midwest had a score of 59, marking a five-point gain, the South went up by four points also for a score of 56. The Northeast saw a three-point gain for a score of 41 and the West was in last place, but solid, trekking up two points for an HMI score of 58.
Other Topics You Might Like
NAHB Says Fewer Americans Carpooling to Work
Tips for Buying a Flipped House
Subscribe To Our Newsletter
Sign up with your email address to receive news and updates.