Safety Tips for Real Estate Agents
October 27, 2014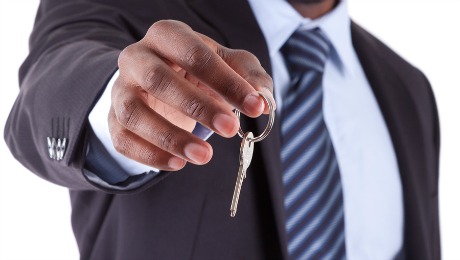 There are reality TV shows that paint the life of real estate agents as fast-paced and glamorous. We are led to believe that impeccably dressed Realtors spend their days showing wealthy house hunters stunning properties, chat about offers over lunch or cocktails, happily close one deal after another and routinely earn lavish commissions. One aspect that was sadly brought to light in September was that being a real estate agent can be very dangerous.
Arkansas real estate agent, Beverly Carter was senselessly murdered after meeting an alleged client at a remote rural listing. Because selling property requires real estate professionals to work with virtual strangers and either drive together or meet them at different listings, which are often vacant, there is a very real element of danger. The world of real estate is highly competitive, so agents try to make themselves as accessible as possible. It is typical for them to present their contact information and image on business cards, billboards and social media sites. These practices unfortunately make them extremely vulnerable to risky individuals.
Since the tragedy, there has been a national outcry to make working conditions safer for America's real estate professionals. In the aftermath of the September incident, the U.S. Department of Labor revealed that in 2013, there were 25 homicides committed against real estate agents, compared to 16 in 2012 and 19 in 2011. These developments have led real estate offices nationwide to reinforce their safety measures and establish safe routine protocol for avoiding peril.
In early October, RealtorMag, the National Association of Realtors' official publication, issued an article that offered these seven tips Realtors should abide by to stay safe.
Come Into The Office or CITO Rule
This calls for agents showing property to first meet with new clients in the brokerage office. This allows them to get acquainted in a secure spot and gives agents the opportunity to verify their identities. The NAR suggests during such meetings, agents should complete ID forms and obtain pertinent information, such as copies of the prospective buyer's driver's license and one major credit card. The NAR has designed several safety forms – see more here.
Please note that all brokerage offices should also keep updated information on their agents as well, including emergency contacts, cell phone numbers, and the Realtor's car make and model.
Trust Your Intuition
Most real estate agents have excellent people skills, which is why they should always trust their instincts. Hopeful home buyers are typically cheerful and excited to participate in the process of viewing property. Any other behavior may mean something is not right. An IL agent, Deborah Leable, explained a situation she was faced with when showing a vacant property. The two prospective clients just did not seem like genuine prospective buyers. She was right – the next day, the place was broken into and all of the copper pipe was stolen. She left when she smelled something fishy and today advises, "Trust your gut and leave. Forget the sale; safety is more important."
Establish the "Buddy System"
Either work in pairs or check in and out with a co-worker who has constant access to your whereabouts. Another suggestion is to use a smart phone to text a photo of the hopeful home buyer's license plate number into the office. One more excellent suggestion is to set up a set of code words or phrases in case an agent feels threatened or is being held against his or her will.
Safety Education
Real estate offices should establish mandatory, routine safety seminars for their employees. The NAR has several programs already in place on its website; view them here.
Review Cyber Safety
The Internet is an excellent tool for agents to investigate their prospective clients. Social media sites as well as public records and fee-based criminal records checks can provide useful information that will ensure they are not taking chances with unscrupulous posers.
Technological Safety Measures
There are also so many amazing smart phone apps and security products that can better equip realtors in tricky situations. A few noteworthy standbys are GPS tracking systems and pepper sprays. This article from TechHive.com features a few of the most popular safety phone apps.
Professionalism Ensures a Safer Working Environment
Realtors who present themselves in a polished and professional manner will be less likely to attract the wrong kind of attention. That means dressing appropriately and being mindful of social media posts and questionable interactions with clients and future clients.
Related Topics
Safety Tips for Shopping for a Home Online
Subscribe To Our Newsletter
Sign up with your email address to receive news and updates.