Texas is home to fastest growing metros in U.S.
November 4, 2014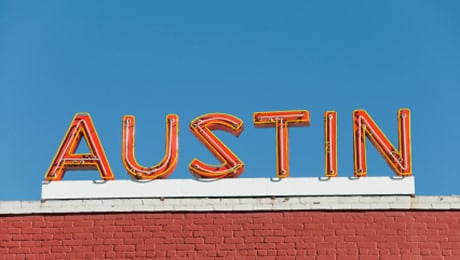 Because it's awesome – that's why! In case you have been living a sheltered existence and the Lone Star State is completely off your radar, you may be surprised to learn that more people are choosing to relocate to Texas than any other state. The two big draws are plentiful jobs and affordable homes. Combine those with the state's glorious weather, cowboy culture, endless recreational opportunities, world-class medical facilities, and enough upscale shopping and dining to keep the Khardashians and the Hilton sisters happy and viola – Texas it is!
A recent story from CNNMoney revealed that Austin, Houston, San Antonio, Dallas, and Fort Worth are among the nation's top 20 fastest growing larger metro areas. Even small, off the beaten track destinations such as Odessa, Plano, and Midland, TX are growing by leaps and bounds. And it's no wonder; all seven regions of the Lone Star State have their own brand of charm. Along with its rich Tex-Mex and Native American History, the state boasts impressive natural beauty that spans mountains, prairies, the Rio Grande, Big Bend Country, the Panhandle Plains and 624 miles of sparkling coastline.
Texas has quietly and quickly become a leader in clean energy due to its suitability for solar and wind-generation operations. The hi-tech, medical, and aerospace industries are also flocking to Texas and contributing to its booming and diverse economy. The Lone Star State's appeal is further enhanced by its outstanding public schools, and a well-respected college and university system. What's not to love?
Austin
Austin is the city where things are really happening! CNNMoney reports that, "Austin's population rose by 2.6% between 2012 and 2013. That's nearly four times faster growth than the United States as a whole."
Furthermore, jobs are widely available in this capital city, which is home to a number of Fortune 500 companies, including Intel, Google, Whole Foods and Samsung. The unemployment rate is low, just around 4.6 percent. Even better, the jobs pay higher than average, which have placed Austin's median income around $75,000 which is about 20 percent higher than the national median. If the economists from Moody's Analytics are correct in their predictions, Austin's job growth will continue to gain steam through 2015.
Even though it is home to almost 2 million residents, Austin has maintained its integrity on several fronts. For example, due to its strict non-smoking laws, Austin is a "Clean Air City." It has also been designated the "Live Music Capital," "The Greenest City in America" and one of the country's "Most Walkable Cities."
Houston
Houston is another hot spot that's pulling in new college grads, professionals, young families and retirees. It is the 4th largest city in the U.S. and still rivals San Antonio and Dallas as the largest Texas metro. Although nicknamed, "Space City," Houston's economy is extremely diverse. The main drivers are banking, energy, manufacturing, aeronautics, and healthcare. In fact, Houston is just behind New York City in terms of how many Fortune 500 firms have headquarters here. Houston's housing market is solid, thanks to affordable prices for existing and new homes, continuing high demand and plenty of new construction.
San Antonio
Known as "River City," San Antonio has been a favorite tourist destination for years. From the lovely Paseo del Rio to the historic grounds of the Alamo, the city has done a commendable job of preserving its history and blend of cultures. Because of positive growth in recent years, rising job opportunities, top-rated schools, and home prices that are well below average, the city is appealing to folks from all walks of life, including retirees.
The presence of several military bases, five Fortune 500 companies, more than 10 colleges and universities, plus a large hospitality and retail market provide the backbone for San Antonio's economy. Another major employer is The South TX Medical Center, whose 900-acre campus is home to several large research and medical centers.
So, now that we've had a look at some of the best reasons Texas is becoming so popular, let's explore their housing market. Zillow's latest data shows that the median home value in Texas is $134,200. This reflects a 6.0 percent increase and Zillow analysts predict those values will go up another 2.4 percent through 2015. The median listing home price in September stood around $219,000. Zillow notes that the median price for monthly rent is $1,300.
If a move to Texas is enticing, check out these Trulia listings:
Houston – Great home in established neighborhood
San Antonio – New homes in Laurel Mountain Ranch
Related Blog Posts You Might Like…
The Best Places to Retire in 2014
Subscribe To Our Newsletter
Sign up with your email address to receive news and updates.